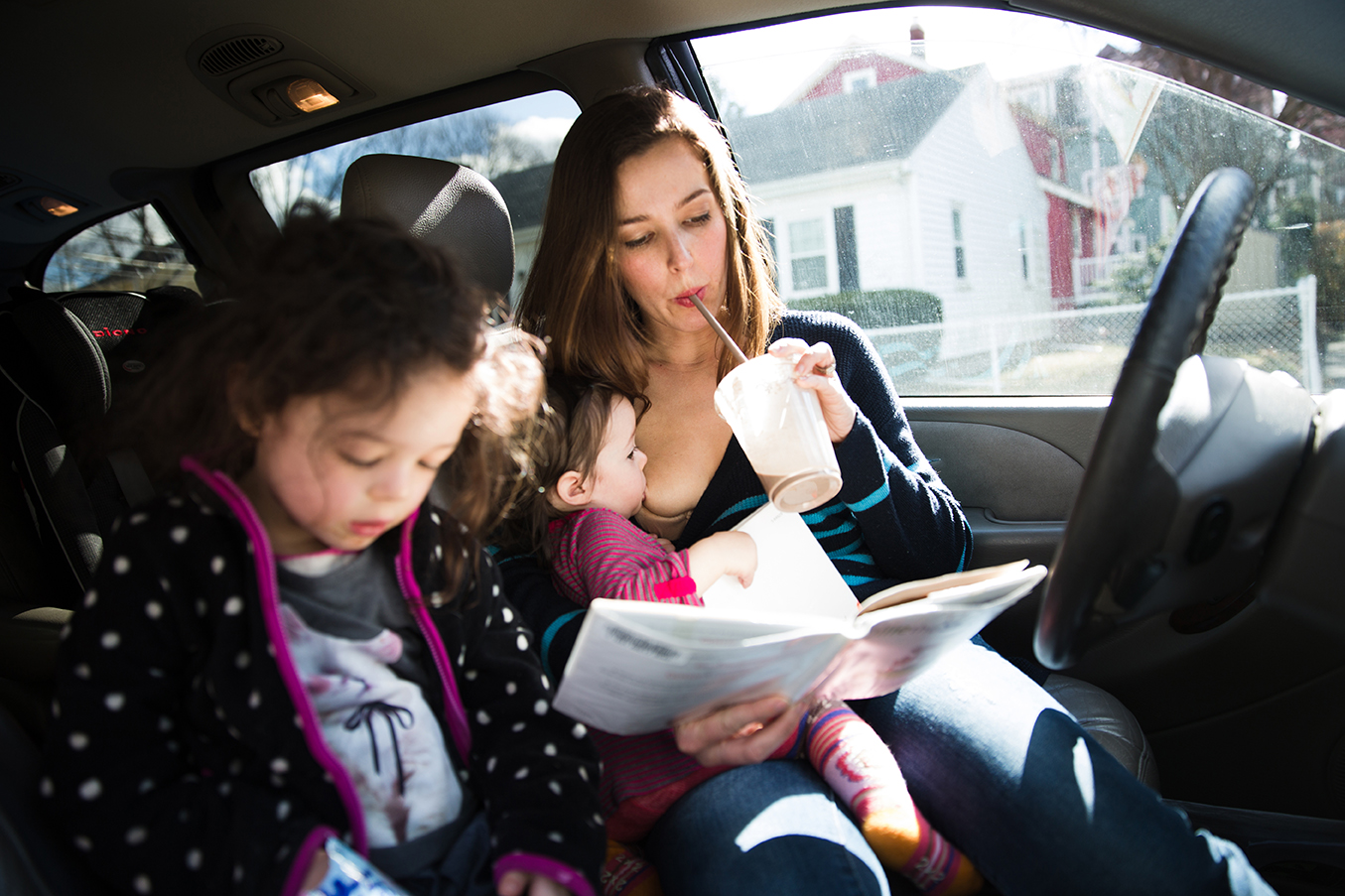 Monica, Marlin & Simona
"As I sit here multi tasking, emailing and breastfeeding at afternoon pick up in the parking lot with the older sister occupied in the back and Marlin happily suckling in my lap I realize that breastfeeding isn't always "beautiful"in the aesthetic sense. What I love about it is the raw immediacy. A procrastinator and unplanner by nature, breastfeeding fits my lifestyle perfectly. Nothing to remember, nothing to clean just my ladies and my baby.
It was not uncommon for me to have my LO in the wrap or sling while I was playing with big Sister Simona at a playground or while running errands. Breastfeeding provided me with that sort of freedom and also empowerment. I don't think it was by mistake that God designed our bodies to be sufficient. When all is stripped away I am still enough for my babies and that is powerful. That feeling of empowerment is what continues to propel me through the unknowns & trials of parenthood with confidence."
Suzie & Sam
Dear Sam,
I never thought we would "do mimi" (nurse) for 3.5 years!!! But it is fading away, and I know it will soon come to an end. I just wanted to say how fun it has been, especially these last couple years. I remember humming songs together as you nursed, and hearing you develop your range & ability to match pitch (mostly with Happy Birthday, that was your favorite for a long time.) Most lately you have been fascinated with the nursing baby gorilla at the zoo, and are imitating him when we do mimi at night.
Since you nursed so long, you might later still remember mimi, perhaps a little, and I hope it is a good memory. For me, I hope I never forget your warm cuddles, and gazing into your eyes, seeing your nursing smile.
Love, Mommy"
P & E
"Before I had my daughter I had three miscarriages. I truly didn't think that I would end up being a mom. I felt broken. It was nearly impossible to feel relaxed and confident during my pregnancy . Fortunately we had a textbook birth and breastfeeding those early days were difficult and painful, but so worth it once we got the hang of it. It was extraordinary seeing my daughter thrive exclusively from my milk. It is wild how differently I look at my body now after our two year breastfeeding journey. The lack of trust I had in it years ago has been transformed... I now can't help but view my body as a powerful life source."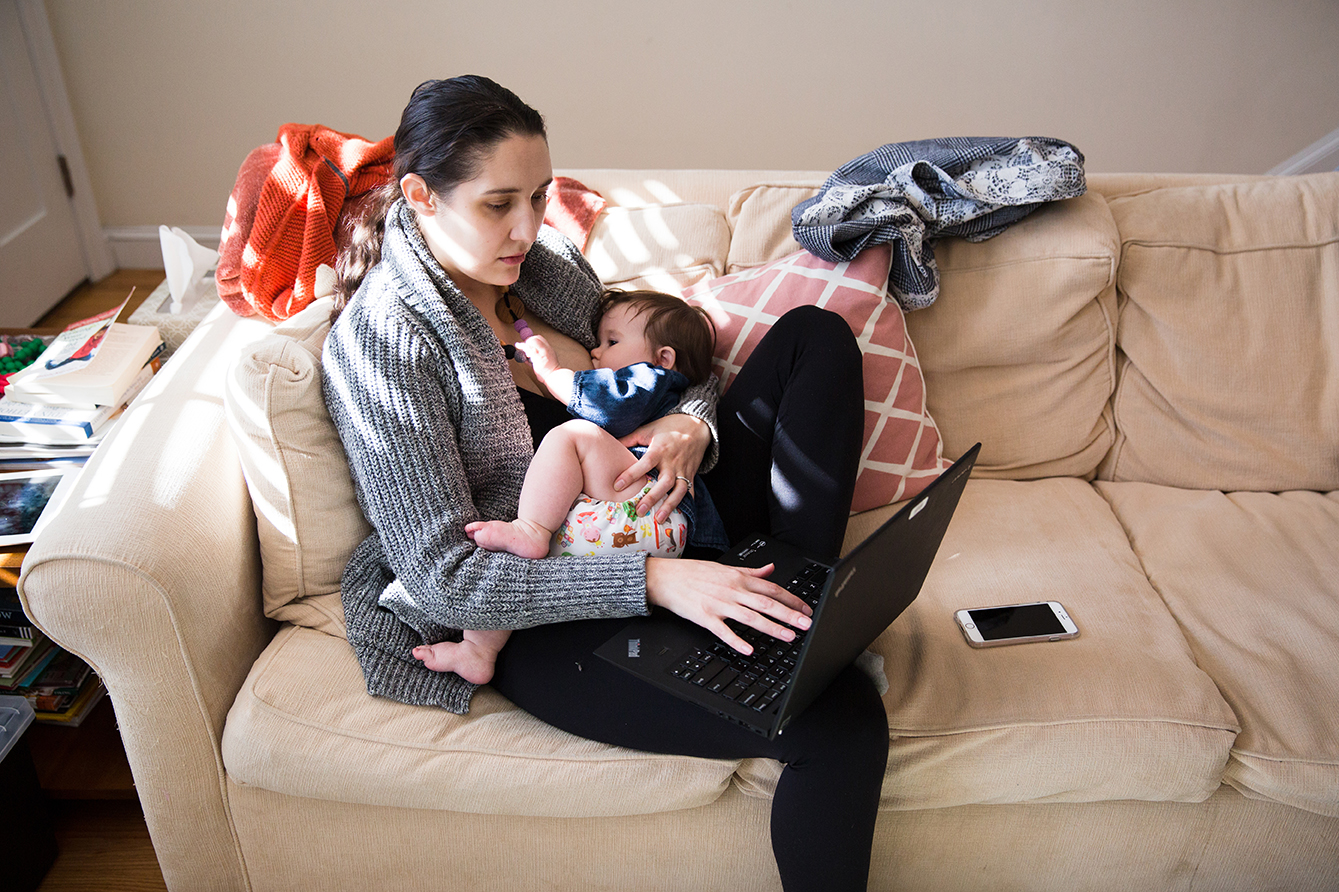 Caitlin & Eloise
I think we do women a great disservice by acting like nursing should be simple, that it will come naturally and easily, that their bodies and their babies will just know what to do. Because so often it is anything but easy, and by not being up front about that, we set women up to feel disappointed in themselves if they struggle.
Nursing is hard, not every time will be filled with joy and with staring deep into your babies eyes. But in a way that is what is so great about nursing, it's such an allegory for parenting in general. Sometimes its messy, sometimes it's hard, sometimes you cry, but in the end what matters isn't whether you were perfect every single second. What matters is just that you love your kids and that you try to do your very best for them, whatever that may mean for you."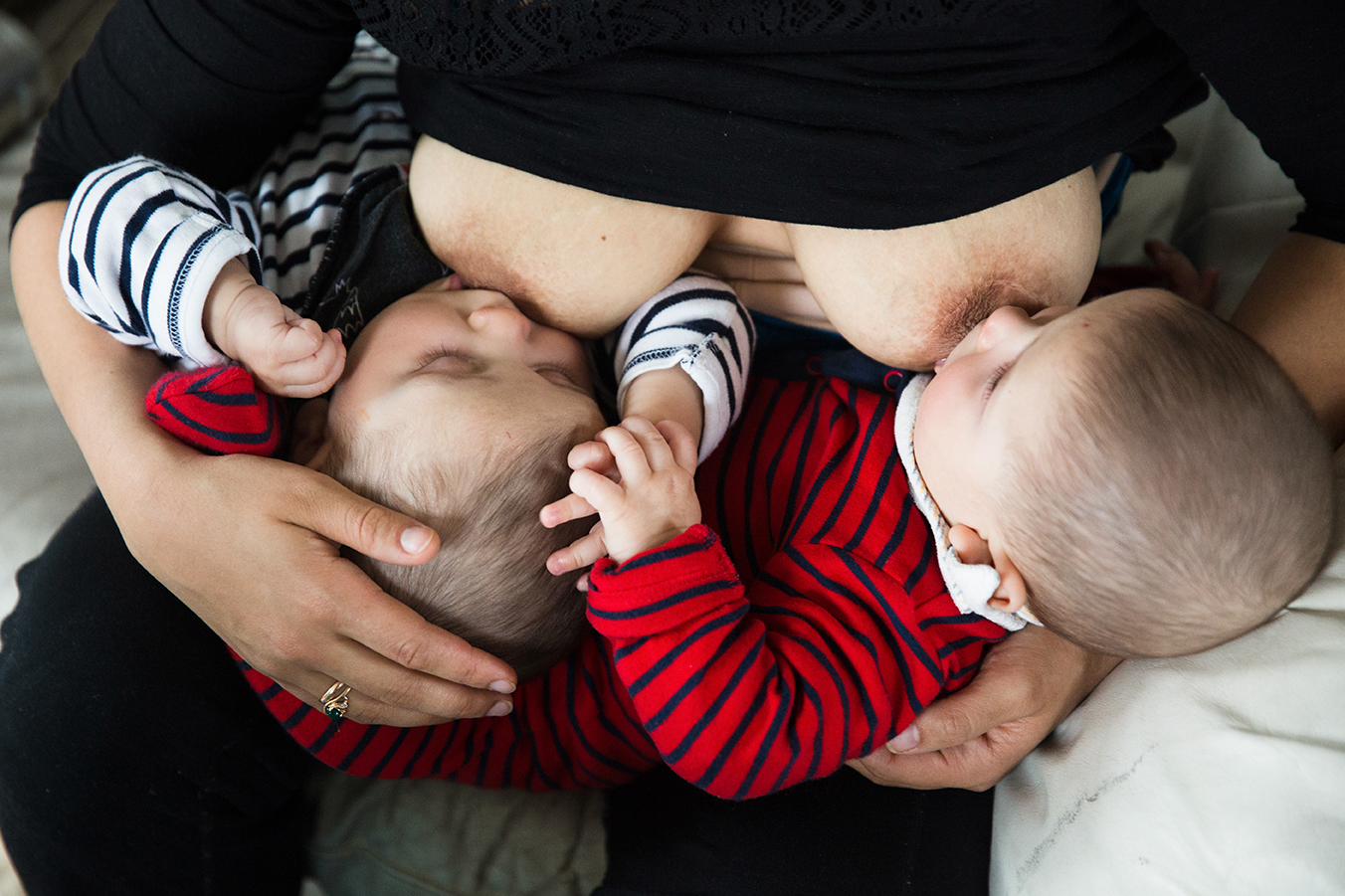 Anna-Maria, Iggy & Niko
Corey & Matteo
"When people talk about breastfeeding, one thing they don't talk much about is the level of commitment it requires. Being a food source for another living person can be daunting and tiring. Once you get the physical hang of it, you still have to continue giving lots of time, energy, and thought to it. It is an incredibly worthwhile commitment but I want to highlight how much work it is too. I feel very lucky to have been able to breastfeed my son for over a year. I believe it has kept him healthy and strengthened our bond."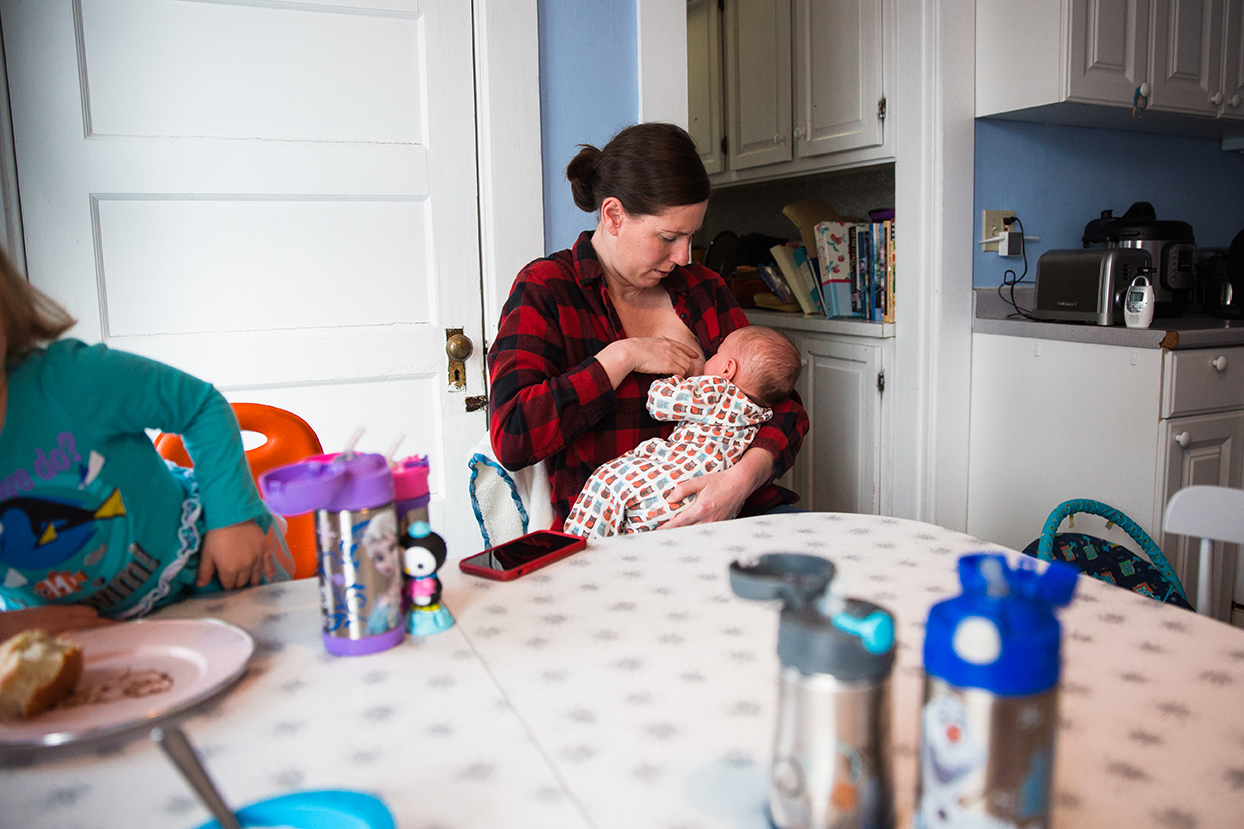 Erin, Nate & Edie
"Breastfeeding is my number one parenting tool. I have used it to nourish and comfort all three of my little ones. There is no problem that can't be solved with a good nursing session. It is the means through which I've lulled babies and toddlers to sleep. Nursing calms tantrums and dries tears, transitioning sobs to whimpers and eventually quiet. I have no doubt that parenting would be an entirely different experience if I had chosen not to breastfeed."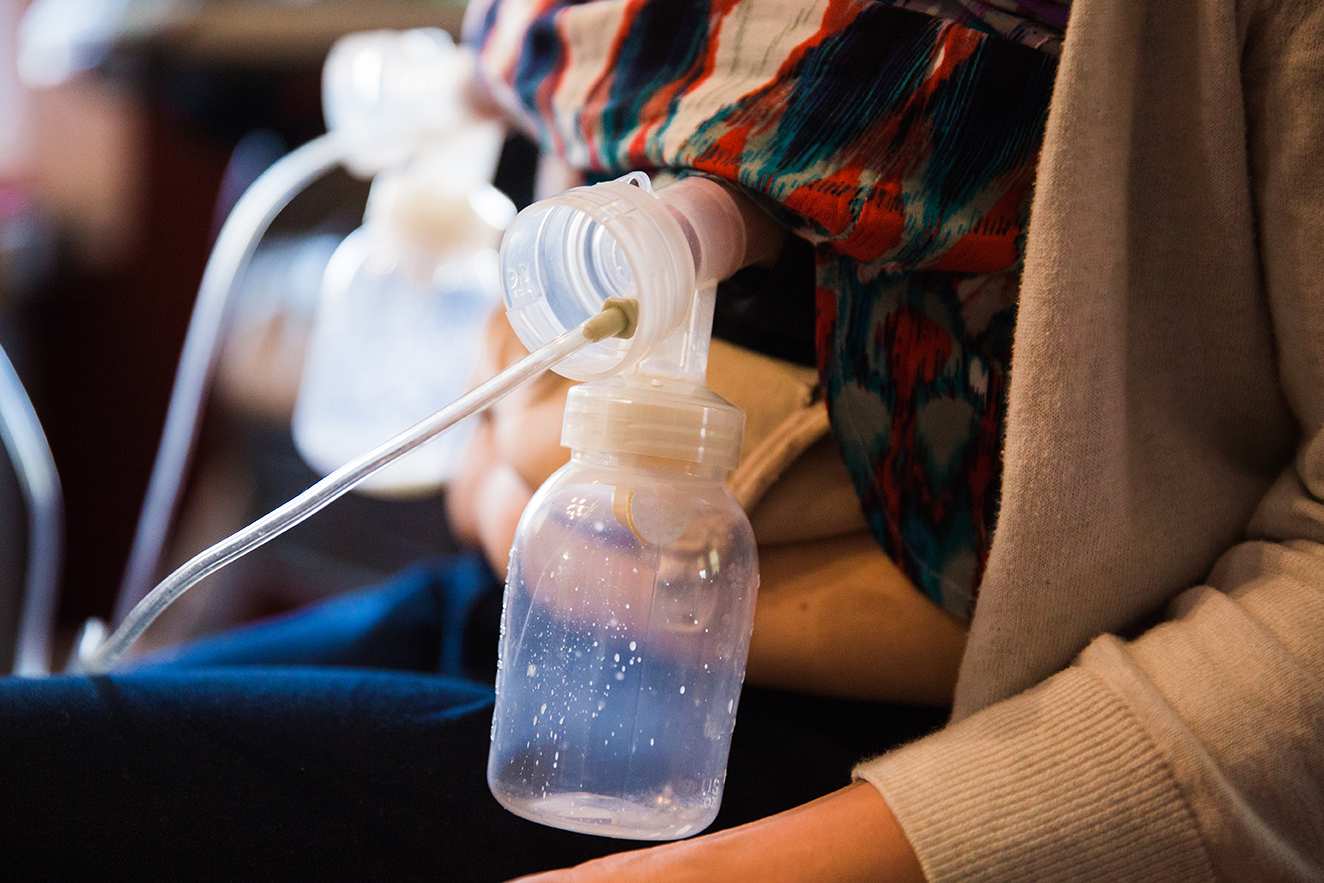 Melissa
"I have been in awe of breastfeeding ever since that first time, minutes after Max was born; I loved how connected I felt to Max, and how rewarding it was to be able to soothe and nourish him. My return to work was a painful separation for both of us, made worse by Max being one of those babies who never took a bottle. Our breastfeeding relationship ended shortly thereafter and I was extremely heartbroken. For 19 months I went on a strict hypoallergenic diet and pumped 6-7 times per day, 7 days a week, to produce breastmilk he'd take in through both a feeding tube and a straw cup, all in the absence of breastfeeding. I simultaneously felt imprisoned by the pump and grateful for a technology that was helping me keep my child alive. For months, my breastmilk was the sole food source he could tolerate without extreme pain. I pumped to nourish him, to stay connected, to feel like I was doing something to help my child in a sea of what otherwise felt like helplessness."
Jill & Eva
Crystal & Otto
"Nursing has given my 20-month-old an element of consistency through a divorce, a layoff, and three moves (one cross-country, one temporary)—but thinking of the adaptability he has shown through it all, maybe that consistency is really for me. We'll both find it hard to give it up when the time comes, as nothing rivals the closeness and well-being I feel when he is snuggled up against me, his cheek against my breast. And though he can't yet verbally express how he feels, I can tell it's still his favorite time, like "mama" is his favorite word (with "ball" a close second)."
Molly & Isla
"When my son was a baby I would walk over to his day care and nurse him. I still pumped every morning and on other rare occasions, but it was such an irritation to me. Nursing Isla during the workday was never an option. Providing expressed milk for her is a way I can be with her when we are physically apart. I'm able to slow down and think about her when I pump at work. As I prepare to pump in the mornings I tell her "I'm going to take some milk out for you for later!" While I pump she and her big brother play and giggle; I put on make-up. She tries to swipe my brushes and compacts and proudly absconds with them when she succeeds. This morning routine gives me the chance to be still and be with both of my children. This time is priceless to me."
Sailaja
"For me, breastfeeding has become this moment of appreciation for my body. It has been a moment of forced calm in a sea of chaos. It has been a moment for me to connect, not just with my daughter, my son, but also my thoughts. Pumping though, tends to be a different reminder. A reminder of my perceived "failures" when I need to pump extra so he can eat. My failure at work, to not be (or want to be) a stay at home mom because my family needs the money...or I think we do. And my failure to "want some time" to myself, so I pump a bottle so I/we can go out. Breastfeeding and pumping, both have been such crucial parts of my journey in motherhood, and represent two very difficult and polarizing sides of a coin."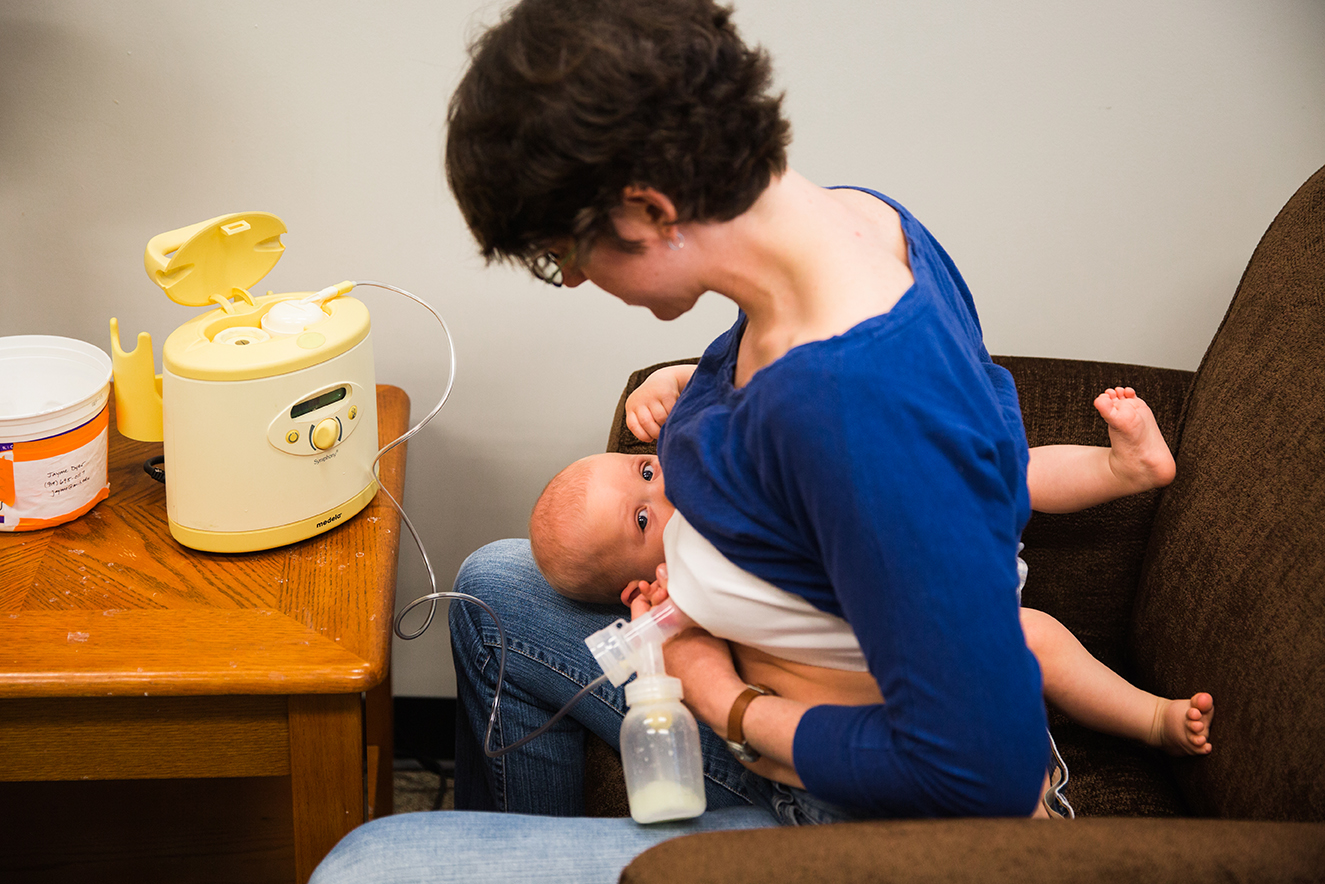 Jayme & Henry
"When I was pregnant, my midwife suggested I take a breastfeeding class. I learned that to best encourage a good "latch," the nipple should be positioned a little off-center, so more of the nipple is on the roof of the baby's mouth. I learned about various nursing positions. I learned about the terrible things that can happen to a breastfeeding mother's breasts (mastitis, engorgement, thrush…) and what to do about them. And I was given a long list of resources in case I needed support when the baby came.
My breastfeeding class prepared me for a lot of worst-case scenarios, but it missed a lot of the reality of breastfeeding. When my milk came in, I got so engorged, my nipples couldn't hold it all in – I woke up to sheets drenched in milk. Leaky nipples are not just for the engorged: every time I feed my son, the other breast leaks milk everywhere."
Delilah & Amara
"Expectations can break you. "Breastfeeding is natural. It will be easy." "I will instantly fall in love with her." My daughter was diagnosed with a lip/tongue ties at 5 weeks old, explaining why breastfeeding was so horribly painful. I think the pain made it difficult to bond with my daughter and contributed to my postpartum depression. Because our journey has been traumatic, I want to let others like me know that they are not alone. And I also want to celebrate our accomplishment. I am thankful we have achieved our goal of 2+ years breastfeeding and are still going strong. This was possible because I got good information early, had unwavering support of my husband, and didn't stop until I found professionals who could properly diagnose and fix the problem."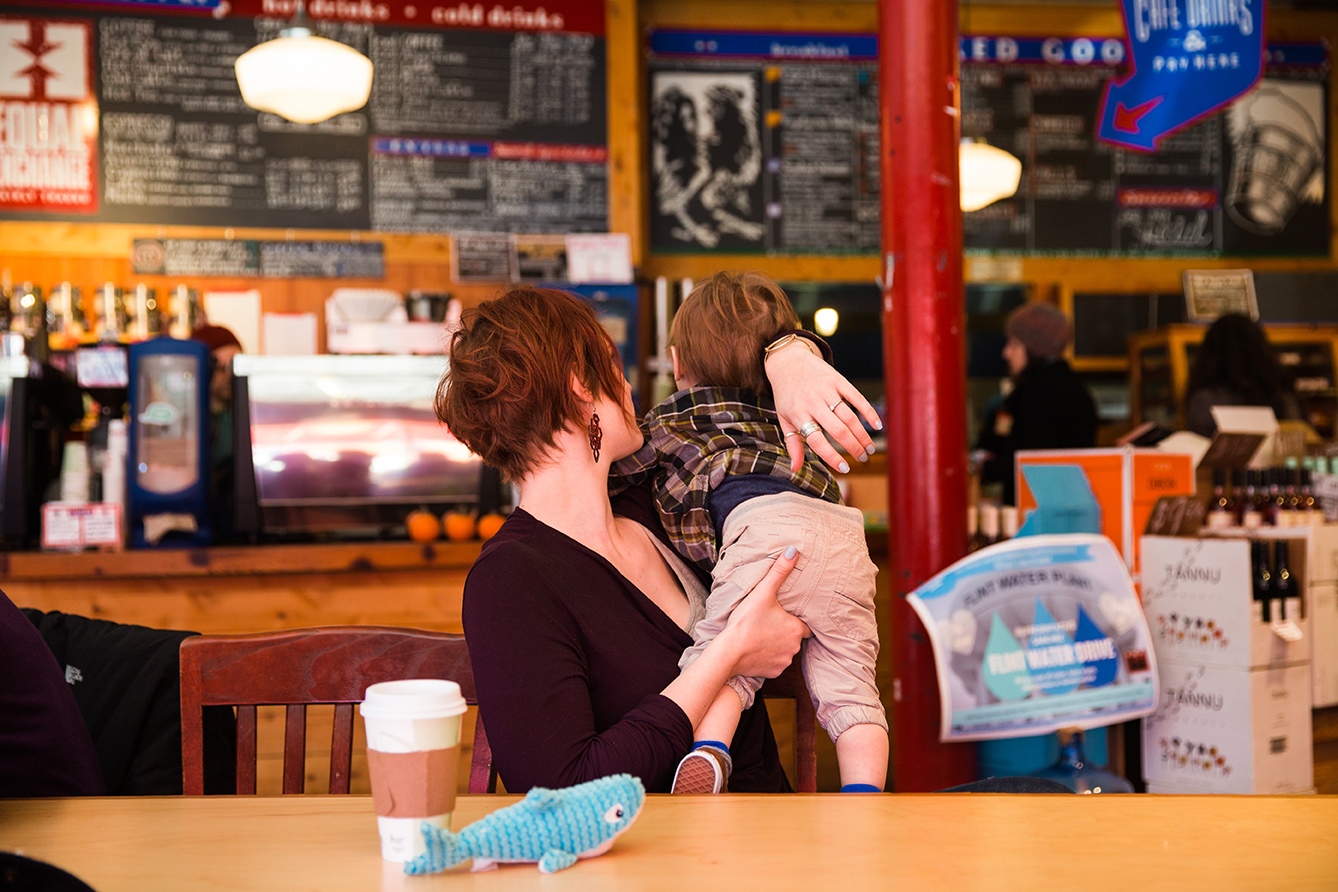 Cai & Silas
"I never expected that I wouldn't love it. Before my son was born, I thought, "I'll breastfeed my baby, of course." I had no idea how challenging it would be. Or that even after the initial struggle and discomfort, weeks of a thrush infection so painful that I wanted to cry every time he latched on, even after a consistently low supply and months of supplements and pumping to keep the milk flowing, even after all that I still wouldn't be comfortable nursing. Over a year later, we are still going. Partly out of my own stubborn determination, partly out of his refusal to give it up. I am grateful and awed that my body has fed and sustained the health of this amazing little human being. But I have learned that it's not always a beautiful and cherished bond; it can be uncomfortable, claustrophobic, and exhausting. Yet it is still a gift I'm honored to give to him."
P & E
Sarah & Clara
"Breastfeeding seemed magical and pure before I gave birth, but for us, it ended up being grueling. Prescriptions and supplements, teas, cookies, hourly pumping, bleeding, bruising, what seemed like endless tears - I did it all. I didn't have time to envy those that nursed easily, or bemoan the fact that chemo shrinks milk ducts. It was all I could do to keep trying, over and over. In the end, I was able to nurse for 9 months and I'll thank heaven for that every day. My darling girl is remarkably healthy and happy and I will always know that we worked through her first life challenge side by side."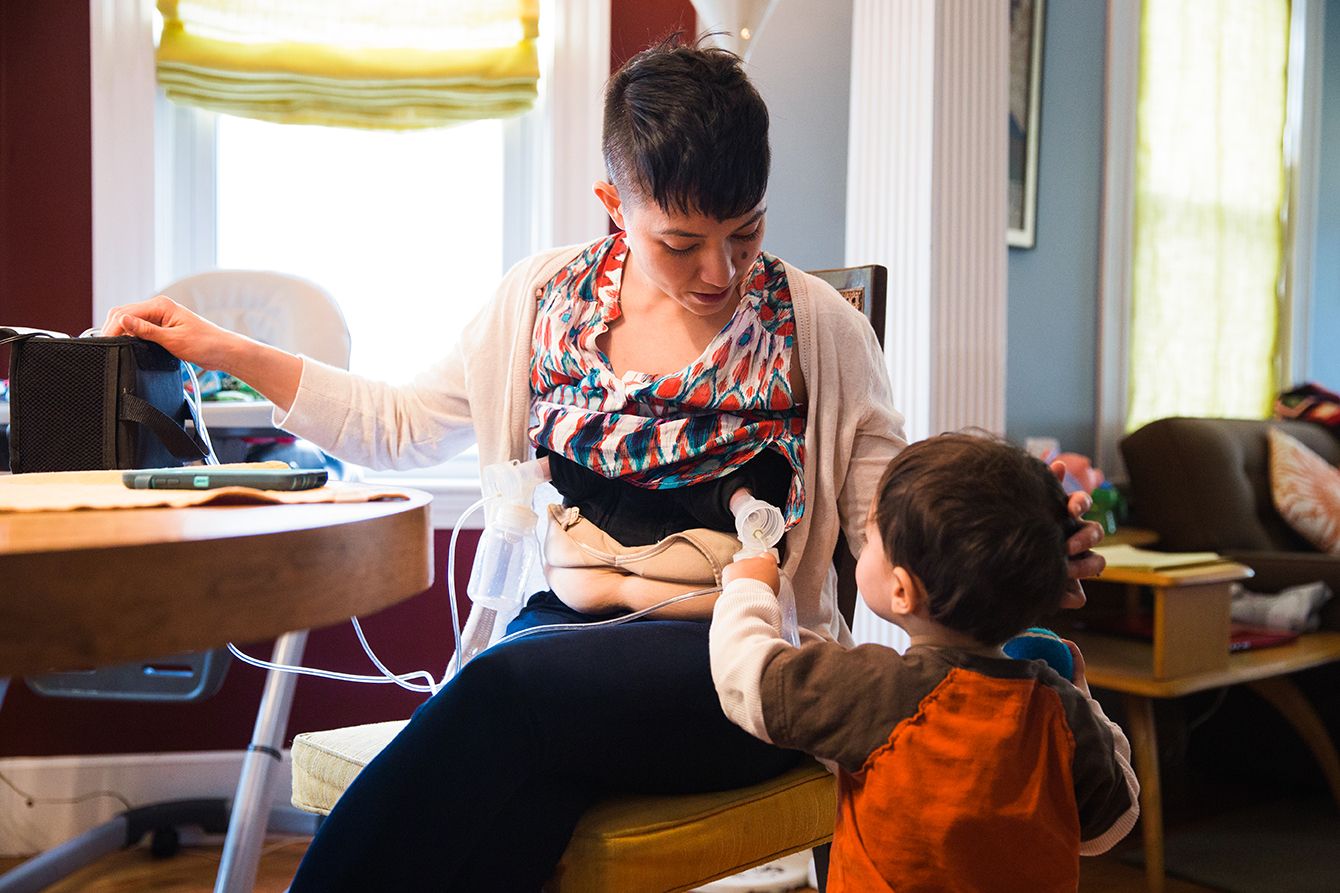 Melissa & Max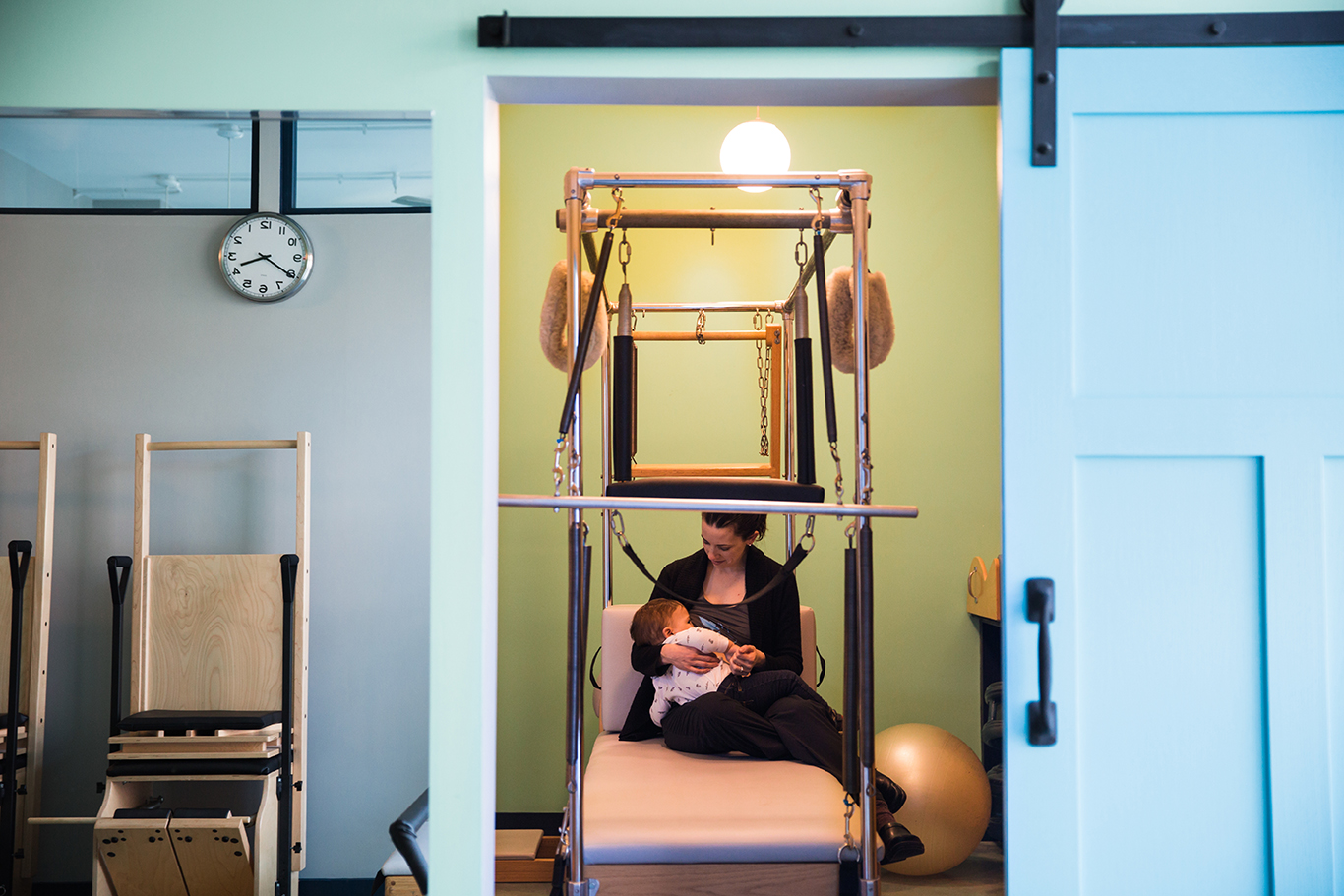 Jess & Finn
use initial
"I have three children, very close in age, that still nurse. I would be the mom that would be wearing a sleeping baby on the front, sitting having a coffee, while the two toddlers were nursing out of each side of the carrier. My husband and I traveled quite a bit before we had children and were lucky to witness breastfeeding in public as a very normal part of everyday life. We spent 60 hours on a bus from Loas to Vietnam with a woman traveling alone with a baby and a toddler. They would go between playing with a couple of toys to checking in with their mom through nursing. They were happy as can be for a 60 hour bus ride. It amazes me that we don't see this in our culture since full term breastfeeding isn't the norm."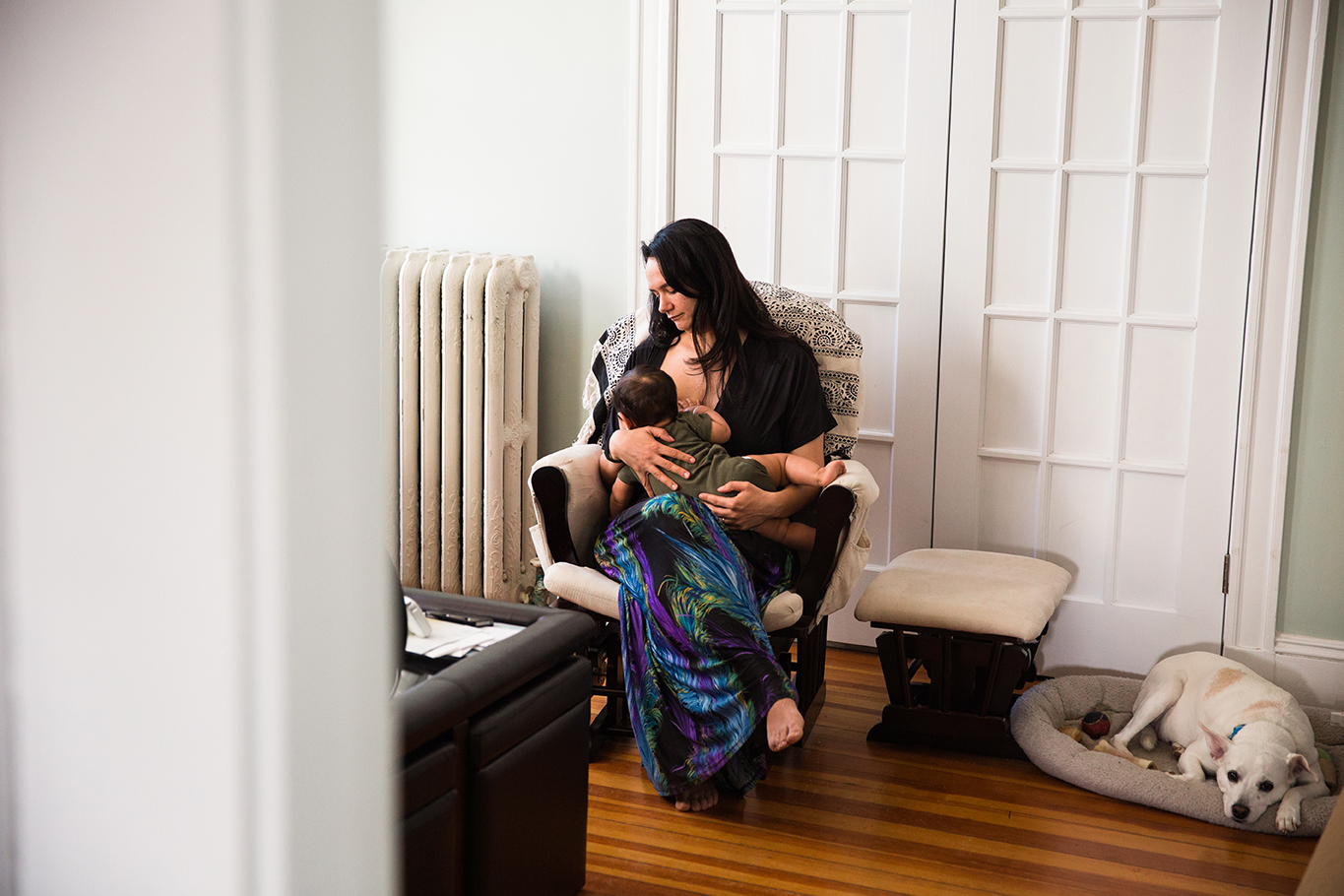 Leanne & Ravi
"In the beginning breastfeeding was so hard, I thought I wouldn't be able to do it for long. Here we are at eight months and breastfeeding has become a real joy in my life. I'm so grateful for this bond."
Brittany, Charlie, Henry & __________
"Four years ago, I struggled to nurse my preemie twins and breastfeeding was stressful, painful, and only partially successful. My third baby was born full term and nursing has been blissfully easy this time around. Having such different experiences has given me a lot of perspective. I have so much empathy for moms who have difficulty breastfeeding and I don't take nursing for granted because I know it's not always as effortless as it looks. I give thanks every time I feed him and I'm savoring every moment of nursing my last baby!"
Tess, Wyatt & Cia
"Watching my son and daughter bond while nursing brightens my heart. He rubs her back. She touches his face. They lock gazes, smile, and then laugh in unison. Theirs is a relationship that will be long in years and deep with understanding. And it all started here..."
Joy & Caleb
"I work full-time from home for a cloud-based global health consulting firm, a job I got while pregnant with my first son and figuring out how to make it all work financially. It has been the optimal job for breastfeeding; both my sons have breastfed in front of laptops, through conference calls, and slept on my lap during all-night work sessions. It has been challenging too. Work trips require months of planning, pumping, lugging breast milk through international terminals, pumping in airplane bathrooms, and weeks of anxiety. However, breastfeeding has been critical for my relationship with my children. Deadlines, long weeks, and stressful assignments can be all consuming, but because of breastfeeding, I was forced to take a break and be present with my babies. Those moments force you to focus, to spend time getting to know your little ones, and remind you what you are working for. "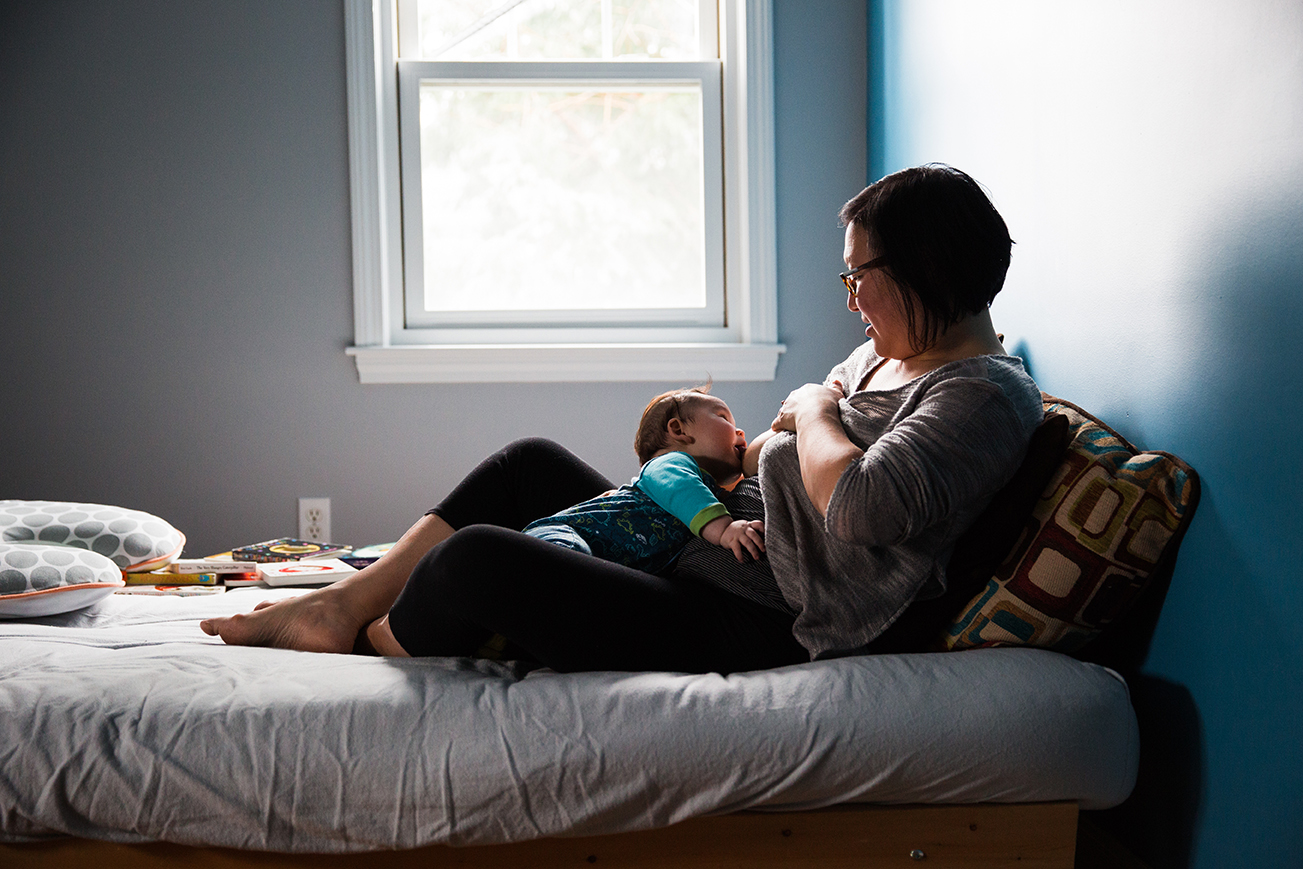 Terri & Max
"A love-hate relationship. I love knowing I can nourish and grow a human being with just the milk produced by my breasts. It's amazing. I can grow a human both within me and outside of me. The bond and connection is beautiful. BUT I hate that I'm bound by this little human. I've lost a sense of my own time and pace. When he's hungry, I drop everything I'm doing and unwrap my cumbersome layers to get to the boob. I no longer wear the clothes I love and made me feel beautiful. And yet I feel lucky that breastfeeding hasn't been a huge challenge for us. So I feel guilty complaining."
Joy & Caleb
Alison & Zach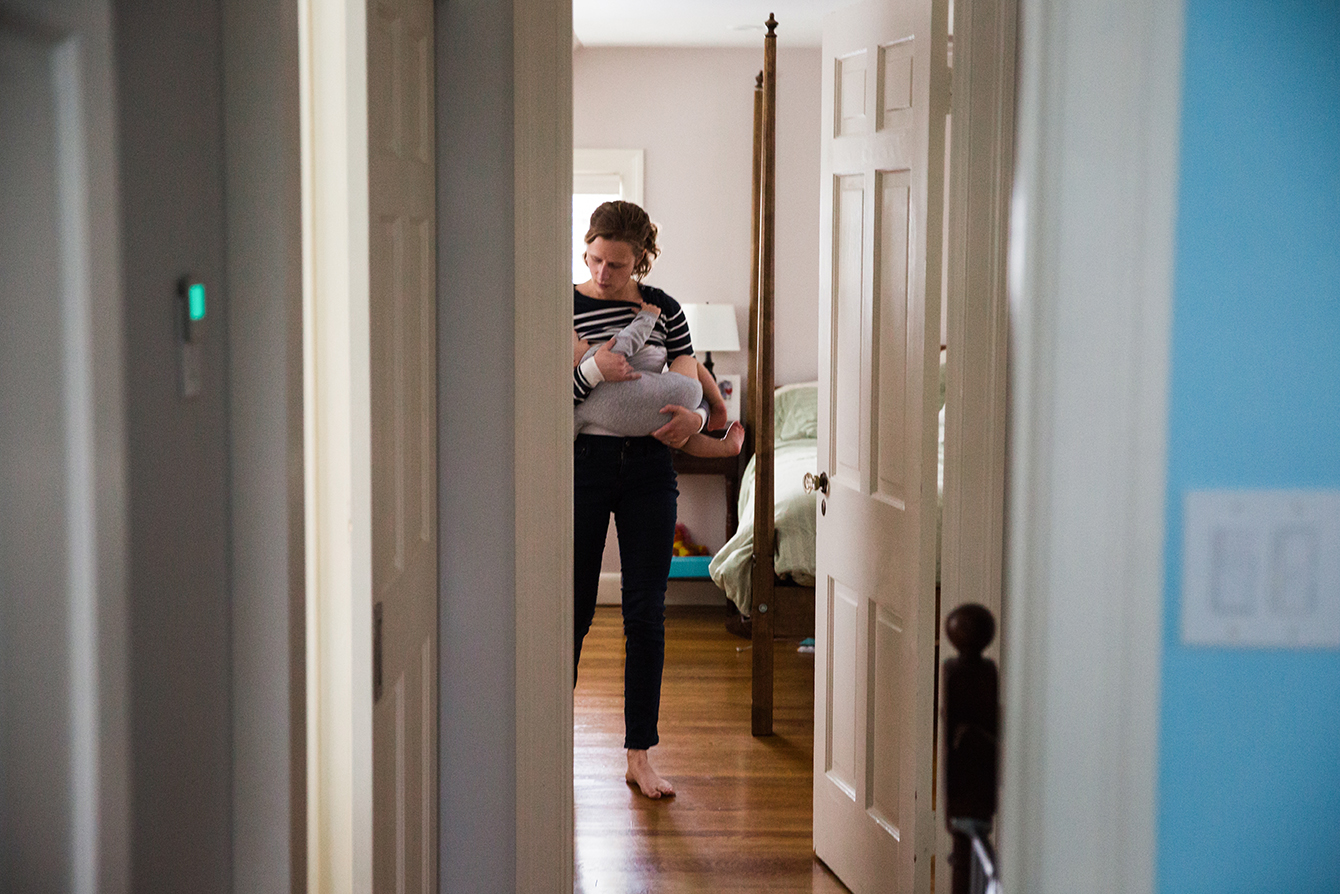 Rachel & Theo
"Theo and I have been lucky. For the most part, nursing has come easy to us; and I hope to continue until he self-weans. We've had our challenges, but nothing that made breastfeeding more stressful than rewarding. Some days I yearn to have my body to myself again, to not have little fingers picking my nose or sticky hands pulling my hair; but every day he continues to nurse is a day I can hold onto my baby a little bit longer. I know I'll cry when he decides he's all done. I almost cry just thinking about it."
Monica & Marlin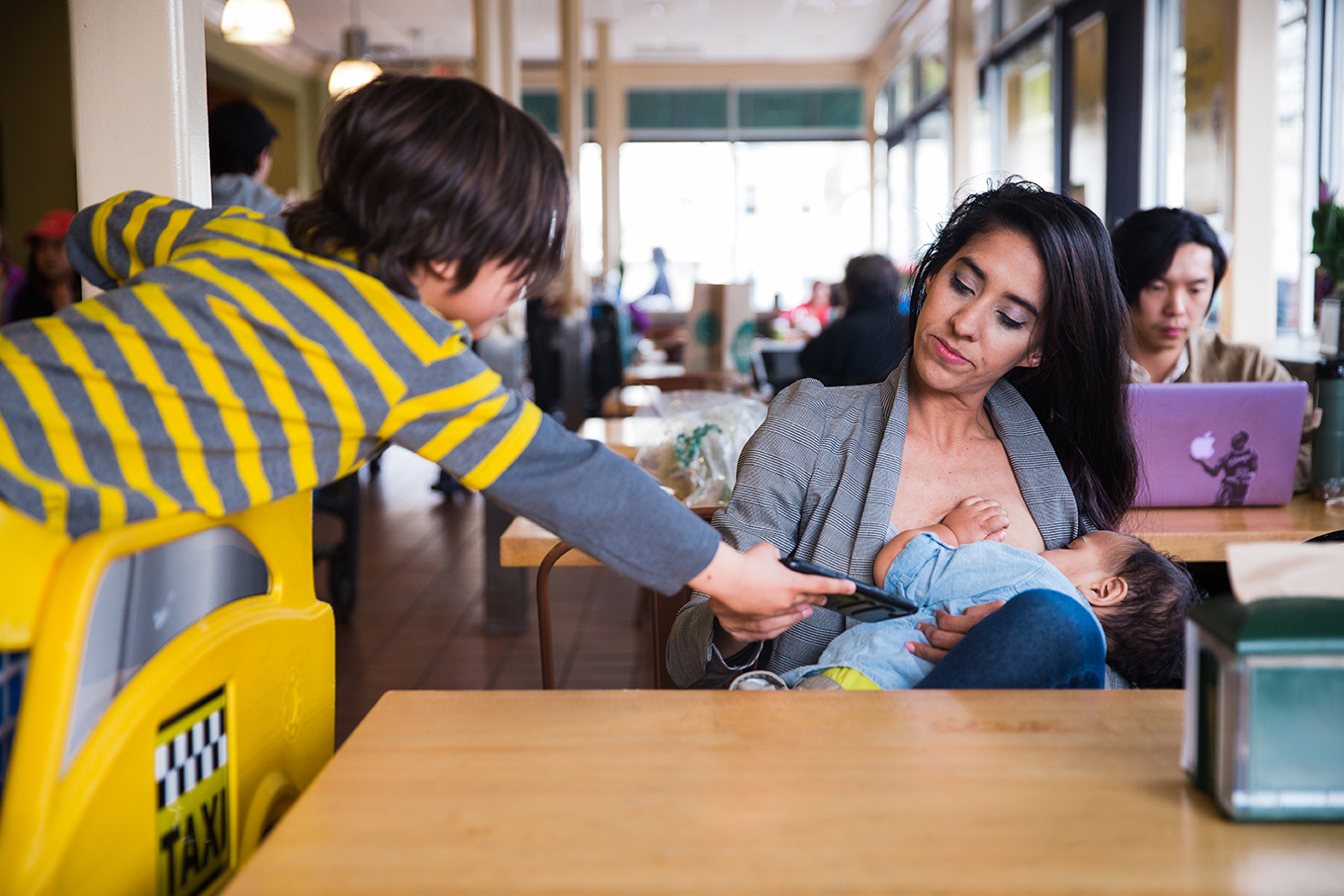 Shirley, Kai & Karlos
"During my first pregnancy I planned to breastfeed my son until he was 6 months. After he was born my breastfeeding stance changed. He turned one, we didn't stop, turned two, we didn't stop. Family asked when I planned to wean him, my answer was: "whenever he wants". He ended up stopping during my second pregnancy as I was in pain. I asked him if he could stop, he understood, it wasn't difficult for him or me, it was a perfect time, he was 4 years old. Now baby number two is going on strong at 16 months. Breastfeeding is now normal in our family, and it should be for everyone."
Anna & Tammah
"We had a difficult start to breastfeeding - mastitis, a nipple tear, and thrush, all within a few weeks. Over time, my body adapted and we found our rhythm. Still, I find it hard at times to drop what I'm doing and give myself over to feeding my daughter. At these moments I try to remind myself that her dependence on me is a fleeting stage of her life. At some point, she won't end her day snuggling in my arms. Once she's weaned, never again will I be able to satisfy my child so simply and directly."
Anh & Adam
Kendra & Chiron
"As the eldest daughter of a long-time La Lecha League leader, seeing women breastfeeding was constant and commonplace in my life growing up. When I was 12 and my twin brother and sister were born, I watched my mom exclusively breastfeed them both for over two years like it was the most natural thing in the world.
When my son was born last summer, and it became my turn to partake in this "natural" process, I was surprised to find that it felt anything but. It was painful, we couldn't get the latch right, all of the hold positions felt awkward, I developed oversupply, he was tense and anxious, and I was too.
I may have given up had I not had my mom's example to draw on, great lactation support, and moral support from my sisters & sister-in-laws. We made it through those first tough weeks, and have developed a breastfeeding relationship that works for us. We may not be "naturals", but I wouldn't trade it for the world."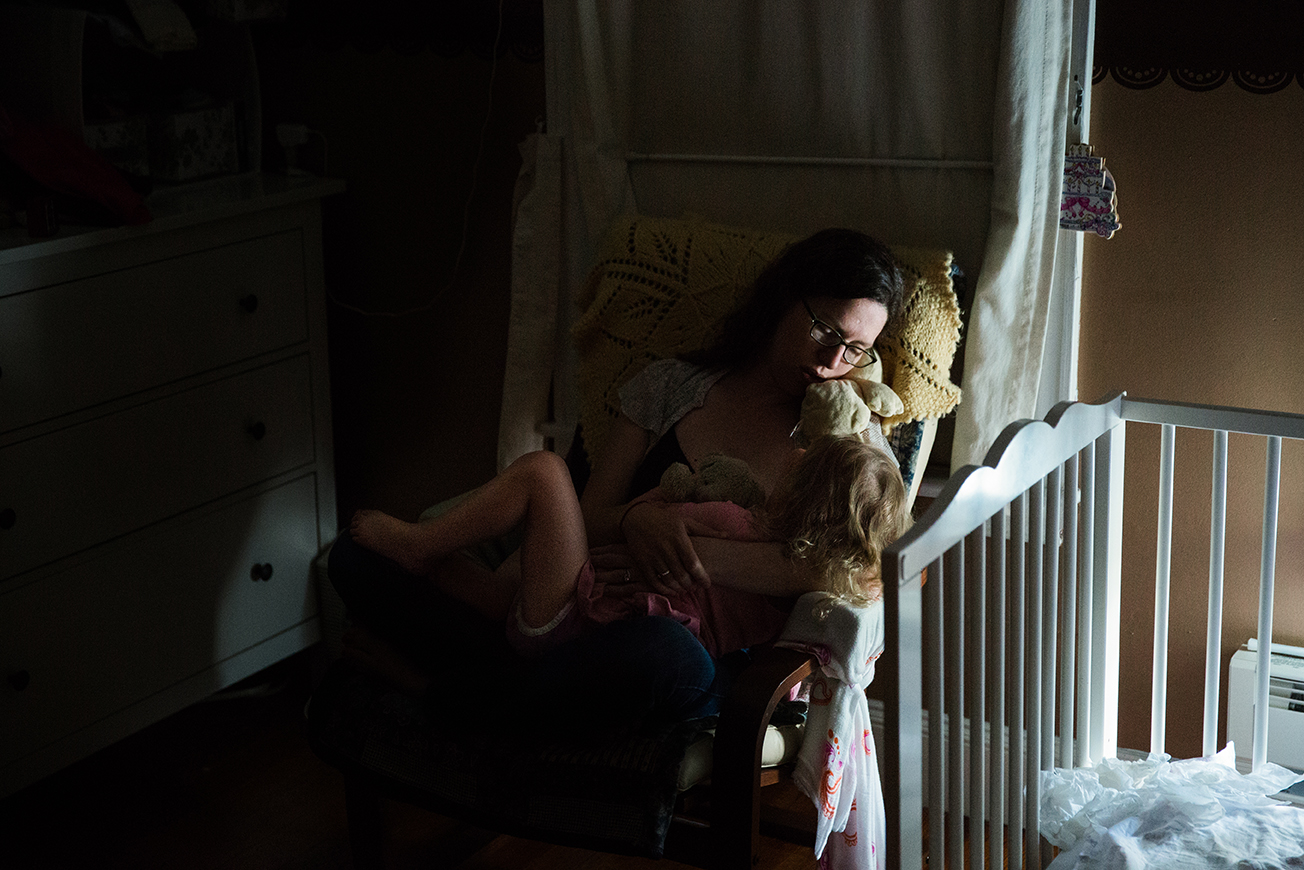 Laura & Eleanor
"When I was pregnant with my firstborn, I knew that I wanted to breastfeed, but I had no idea that 4 years later, I would be the tandem-nursing mama of a preschooler and a toddler. The first days and weeks of breastfeeding my first were tough -- poor latch, cracked nipples, nipple shields, pumping, syringe feeding, non-stop round-the-clock nursing sessions, mastitis -- but once we got the hang of things, we just kept going one day at a time, doing what felt right for us. My breastfeeding relationship with each of my children is constantly evolving, and I still don't have a set idea of when we'll wean."
Allison & Thomas
"When my son was born, I was surprised at how much he felt a part of me —almost an extension of my body — even though he was clearly his own being. I have heard that mother and baby struggle between the need to be connected all the time and the desire for personal independence. When I breastfeed my son, we reset that original connection, and we are both in a better place to reassert our independence afterwards, trusting we will unite again in a few hours."
P & E
P & E
Rachel & Theo
Sophia & Frankie
"My daughter and I have been breastfeeding now for the 2 1/2 years of her life so far. When she was born, we transitioned into breastfeeding easily. For me, it has just made sense to continue it. It's always been grounding for both of us; a way for us to connect and slow down, even during the busiest moments. I love it when I'm rushing around to get ready in the morning, and she says, "Mommy nuk?", and I sit down, and I remember to breathe, and we do mommy nuk. I'm thankful for her in those moments; she helps me to take the space to laugh at myself when I'm frantically rushing to get to work, to remind myself and reassure her of what's most important--our connection and the present moment. At this point, she's almost ready to stop. She does it for a quick dose of comfort and is finished within seconds. It will be bittersweet when it's over, like every ending, but it's been a happy thing for us to make it as far as we have."
Corey & Maeve
"I've realized this time that breastfeeding requires flexibility. My second baby is a different nurser and I've had to be flexible and figure out what works best for her, not just go to what is familiar to me from my son. I've also had to be flexible and overcome some level of shyness to nurse her in all sorts of public places since we are often on the go with my older son. I am grateful that my body has allowed me to nurse them both and that my spirit is flexible enough to allow for it too."
Joy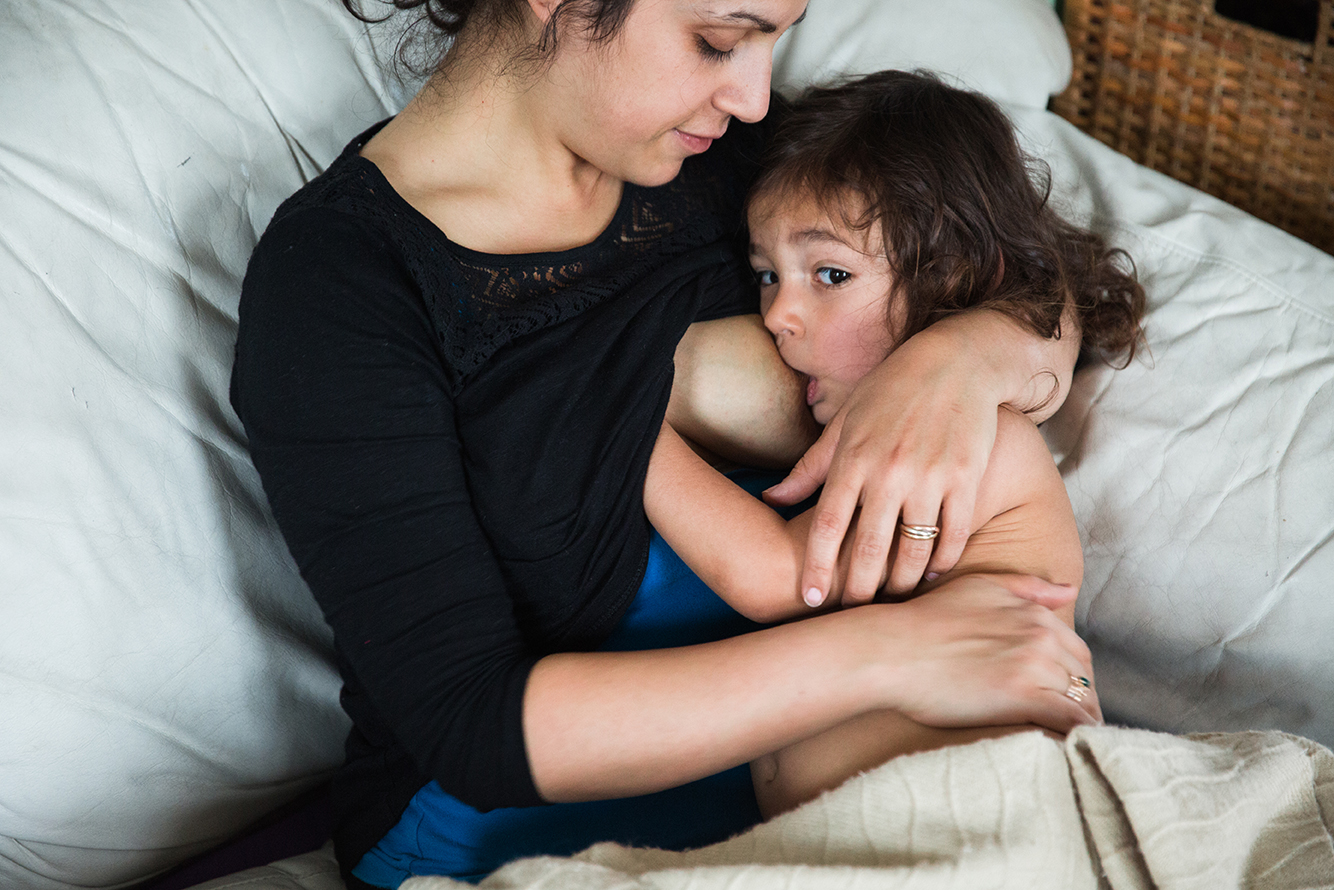 Anna-Marie & Lukasz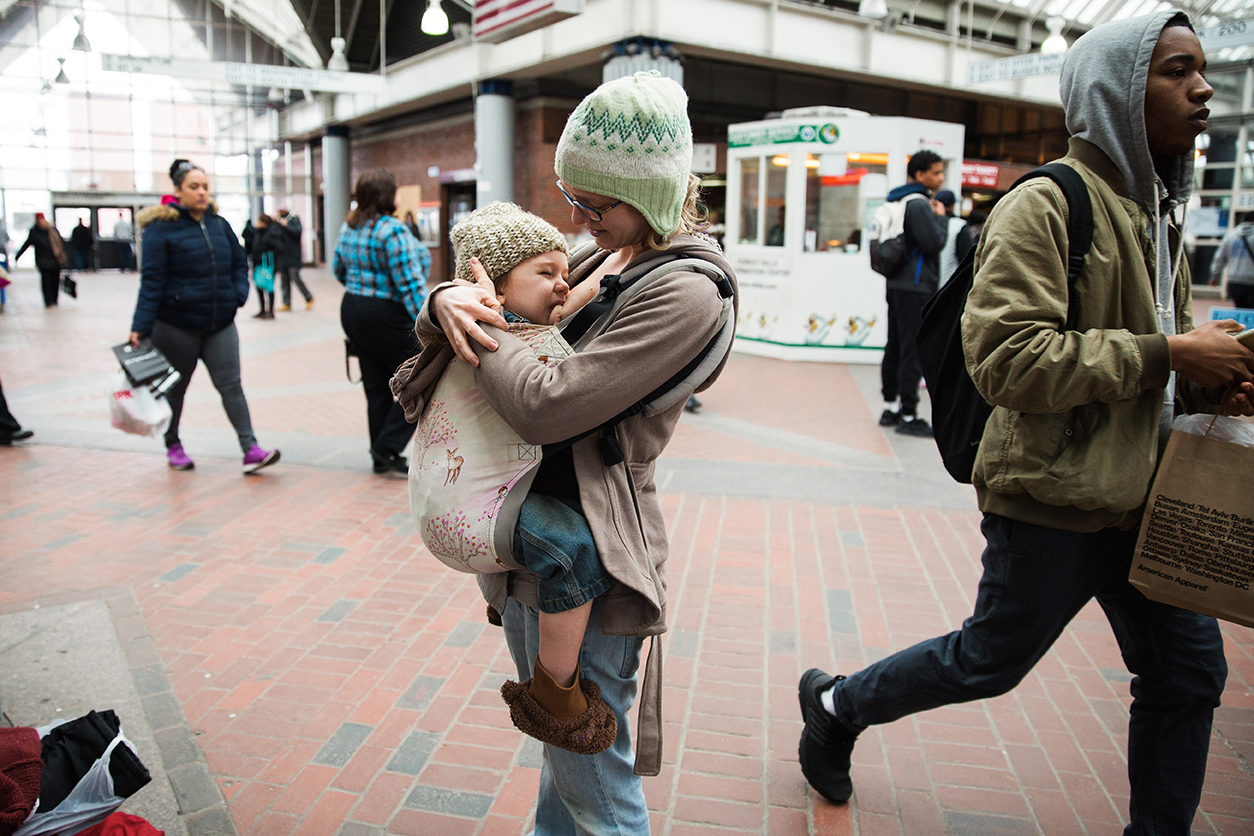 Alison & Zach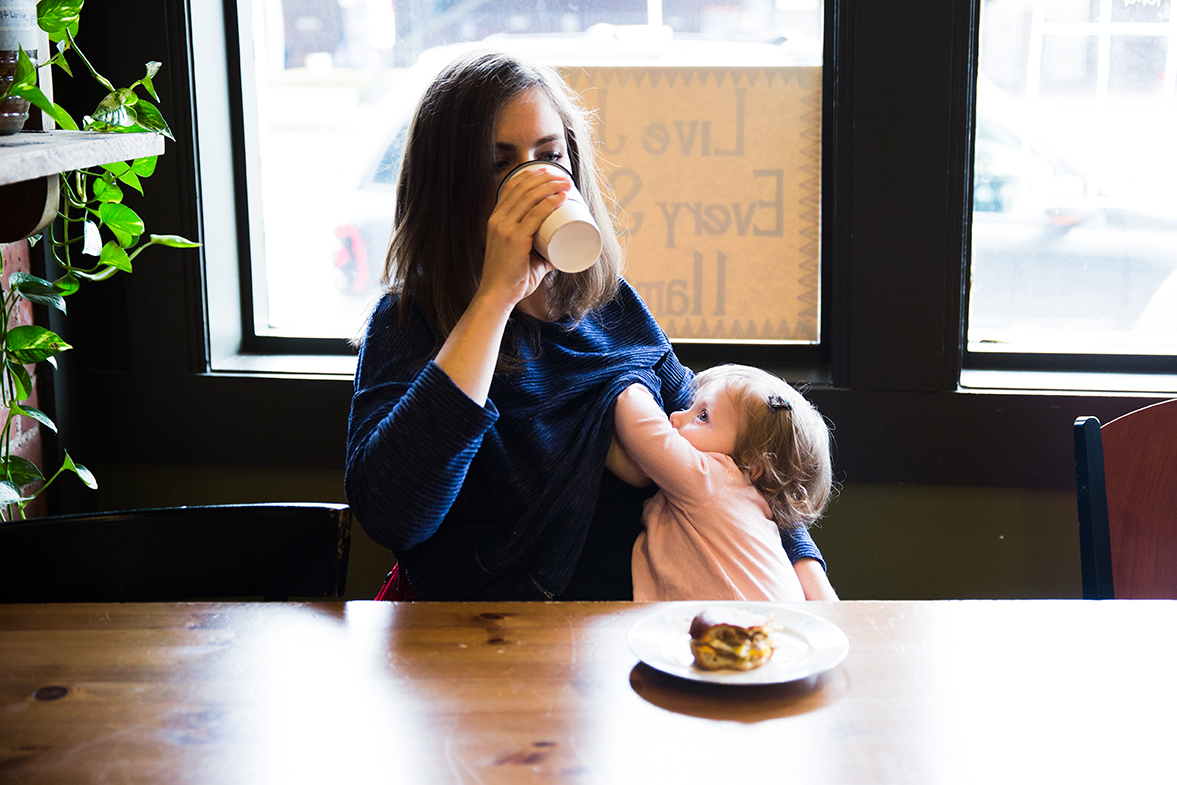 Danielle & Thea
"Nursing has, impossibly, gifted us more time. Over days and months, she looks exactly the same and so heartbreakingly different--so much older. I wish her little body would fit, soft and heavy, in my arms for always. Still, in the shade of her deepest sleeps, I can see her rosy mouth, eyes closed and head bobbing, as she anxiously searches for my breast. And time feels, for just a moment, a little more manageable."
 
Robin
"I pump while I work to feed my son. I duck out of construction sites to go pump in my car. I break up board meetings to go pump. I conduct conference calls with the hum of my pump in the background. I am on a strict schedule to pump at certain times to ensure i produce just enough milk to leave for my son while I am away from him. Its a lot of work, and while nobody said motherhood would be a cake walk, pumping really is tough! Some days I feel like a cow hooked up to my milking machine- my nipples are sore, they bleed and are cracked. But on those days when work is overwhelming, and all encompassing, pumping centers me- it reminds me whats important and even though I can't physically be with my baby nothing makes me happier than knowing he still gets his mamas milk."
Mike & Eli
"Nursing is the quickest way to calm a screaming baby as I've witnessed first-hand. However there are limitations to caring for your infant that Mother Nature just has not granted us Dads. Being a stay at home Dad that needs to feed his little one breast milk every 2-3 hours isn't so bad. You reach for the pumped milk from the fridge, carefully pour it into a bottle - making sure to capture every last drop, and pop it in the warmer for 5 minutes all with one hand because you carrying your son in the other - and voila, happy baby. Lucky for me, yes I, my son takes to the bottle quite quickly just as long as I get the temperature warm enough for him to even consider taking a bottle over a warm breast. It's really not until you decide to venture outside of your humble abode, away from these things we often take for granted, that you realize the complexity of bottle feeding your child."
Sheila & Violet
"I've been breastfeeding a total of 6 years now! Wow, I can't believe it. One of the greatest gifts, I feel, I could give my three daughters. Not only for them, but for myself as well. Breastfeeding is truly one of natures gifts. The connection and bond I have with my girls is something I cannot describe in words. The time I have had sitting and nursing with my children is so precious. I can never get that time back, but I can look back when my children are grown and remember those moments when time would stop, and it was just us, nothing else mattered."
Rachel & Theo
Tess & Wyatt
"Each time my son nurses, I am acutely aware that it may be our last session. I drop everything else and focus on him- the curls of his uncut hair, his soft smell, the way his fingers play with my necklace, or that sly, secret smile as if telling a joke that only I understand. I tear up with joy at the journey we have traveled together- something I don't want to end anytime soon."
Abigail, Augustus, Jedediah & Nucky
"Although I was not exposed to breastfeeding growing up, I always planned on nursing my children. I breastfed my first son until 19 months (I was 5.5 months pregnant) and am currently breastfeeding my second baby. Both of my sons were born with lip/tongue ties which made newborn nursing challenging. It is surprising how few health care providers are educated about these anatomical hinderances. I have learned to be a strong advocate for my children and breastfeeding, thus was able to find providers to correct these issues to ensure successful nursing. Breastfeeding has benefited my children by bolstering their immunity, creating secure attachment, and meets their emotional needs while providing the best nutrition possible.
I am proud to feed my children whenever and wherever. My husband is my ultimate support and am lucky that my extended family normalizes breastfeeding."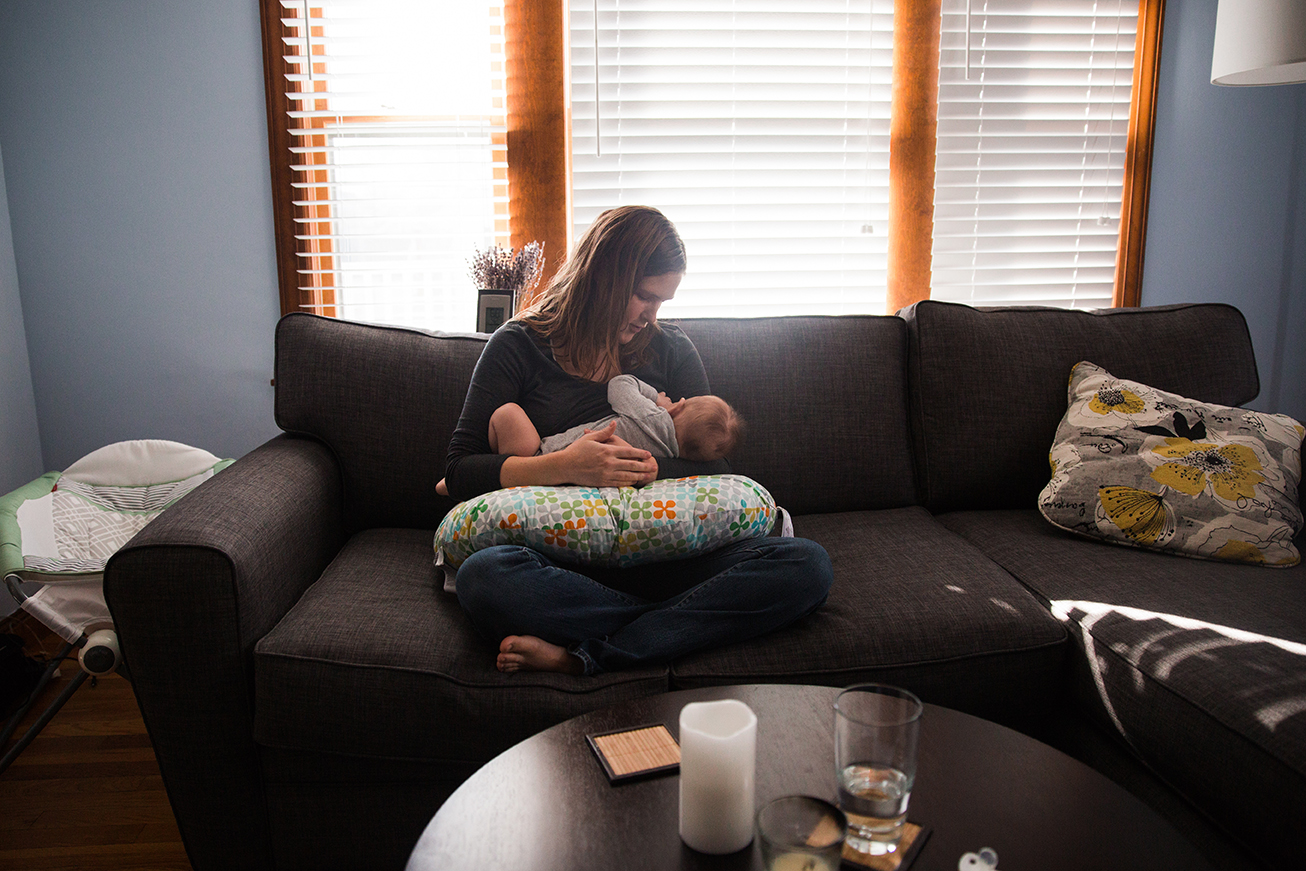 Elyse & Holden
"Breastfeeding is both the most difficult thing I've ever done and also the most rewarding. It's nothing at all like I imagined it! I always knew I would try to breastfeed my baby. What I didn't know is how many obstacles would stand in my way (and just how common this is). From painful latching, to chronic thrush, to baby's lip/tongue tie - I am so proud and happy I didn't give up. Now I know what all the fuss is about and am so grateful for all the support there is out there for new moms."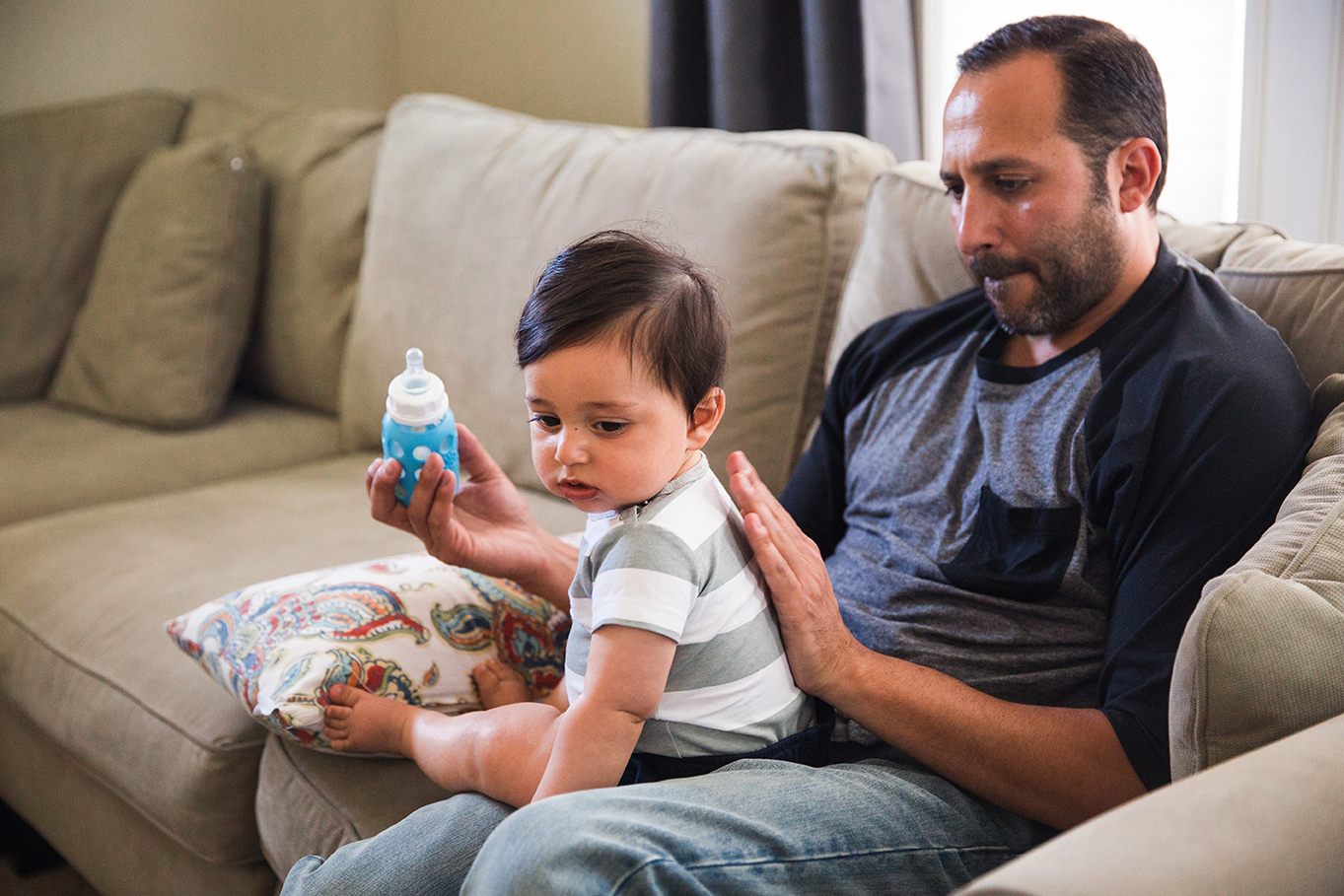 Mike & Eli
"Trips to the grocery store, story time or grandmother's house requires steadfast preparation. Questions start scrolling through your head: How long will we be gone and will the milk stay cold enough? Or will we have enough of it and what happens if there's a contagion virus outbreak due to zombies and we cannot get home in time to refill? Odds are that if you you're a Dad you've probably had a couple of these outlandish thoughts cross your mind at one time or another. Better safe than sorry. So you pre-fill a bottle and in addition take a frozen bag of breastmilk that your wife has carefully extracted, bagged and labeled days before with the date, and volume just in case you're gone for longer than expected."
Brittany, Charlie, Henry & ____________
Joy & Caleb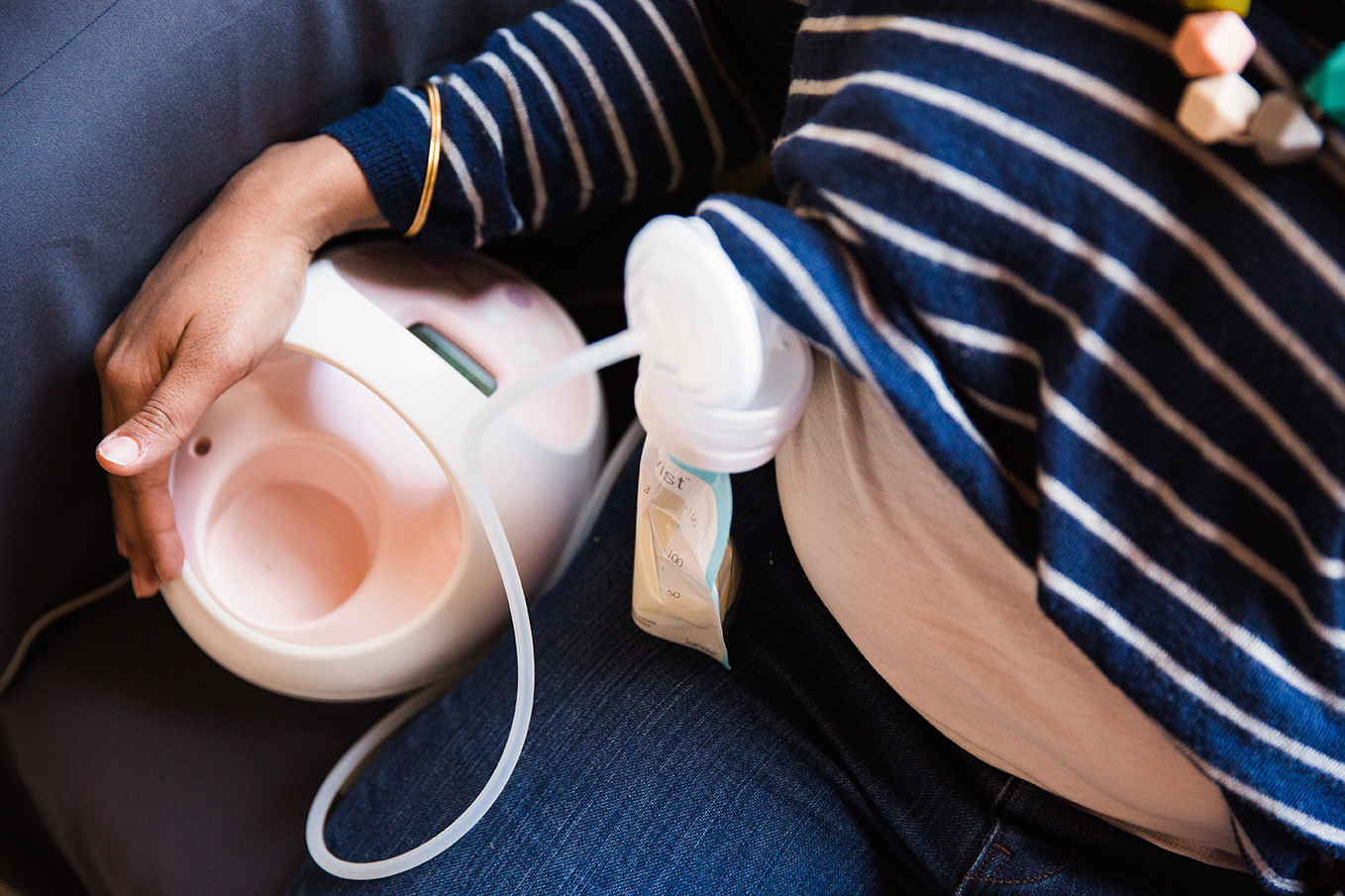 Sailaja
Crystal & Otto
Laura & Reid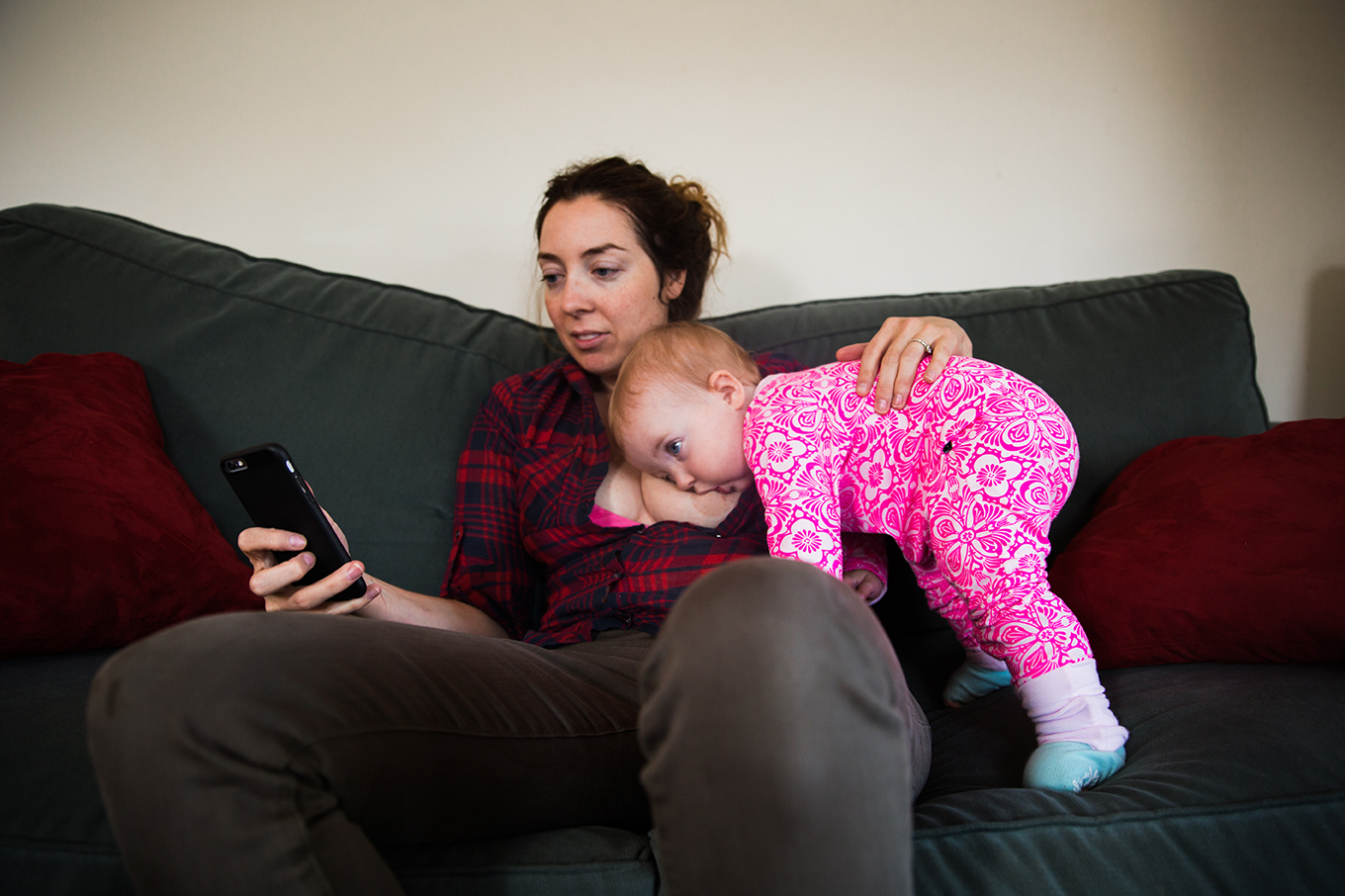 P & E
Katrina & Emersyn
""Breast is best" is what every mom is told. But what they don't tell moms, is how hard it is going to be. The pain and stress you endure as a mom in order to give your baby the best nutrition is often underestimated. My hope for future moms is for them to get plenty of support, education and encouragement to provide the best for their babies."
Sarah & Inara
"My daughter and I had a rocky start to our breastfeeding relationship, with an unplanned C-section, flat nipples, a nipple shield, a tongue- and lip-tie, and countless hours of crying by both she and I. After a laser revision and cranio-sacral therapy, she was finally nursing normally by four months old. I wanted to make it to at least a year, but by that point, it was easy to just keep going. We're at almost two years now and I am so thankful for this journey and the gift I have given her."
Talisa, Mackenzie & Max
"Before I had children I thought that breastfeeding was gross. I didn't know anyone who breastfed until I was well into my 30's. I thought that only poor people or people trying to make a statement nursed their babiesI can't believe how wrong I was. I wish that I could take back all of the harsh words, and ignorant glares. Nursing my children has been such a major part of their infancy. It was so hard and do much work at first. In the end, however it got so easy. I nursed muy daughter until she was almost two. I will nurse my son until he is ready to move on. My kids nurse their dolls. Hopefully breastfeeding will be natural and normal to them. It certainly should be."
Erin, Nate & Edie
Anna & Sophia
"I thought being a mom was going to drain me of everything. When my little pumpkin came, I realized that I was the opposite of empty. In fact, I was so full of milk, love, fear, excitement, and joy that I felt I might explode. I was engorged so I had lumps the size of golf balls in my armpits that went down after a few days. While it's not the only way, breastfeeding was a time in which I felt I could release some of the stuff building up inside of me and give all that great stuff directly to my beautiful baby girl. Daily, I am overcome with the huge and happy emotion that I overflow with for my family."
Sandra, ________ & ___________
""Myam-myam" as my first called breastfeeding, engenders a fierce connection between us. I'm awakening to a deep inner knowing that has long been buried as I venture on a journey toward parenting in an evolutionary way, as nature intended. These children's inherent sociability is nurtured with breastfeeding, bed-sharing, babywearing, responding empathetically and holding space for their full selves. I know they will respond to my expectations to be helpful, trustworthy, kind hearted, and good citizens. Breastfeeding is teaching me self-love too as I navigate setting boundaries - trusting that what feels best for me is also best for my child."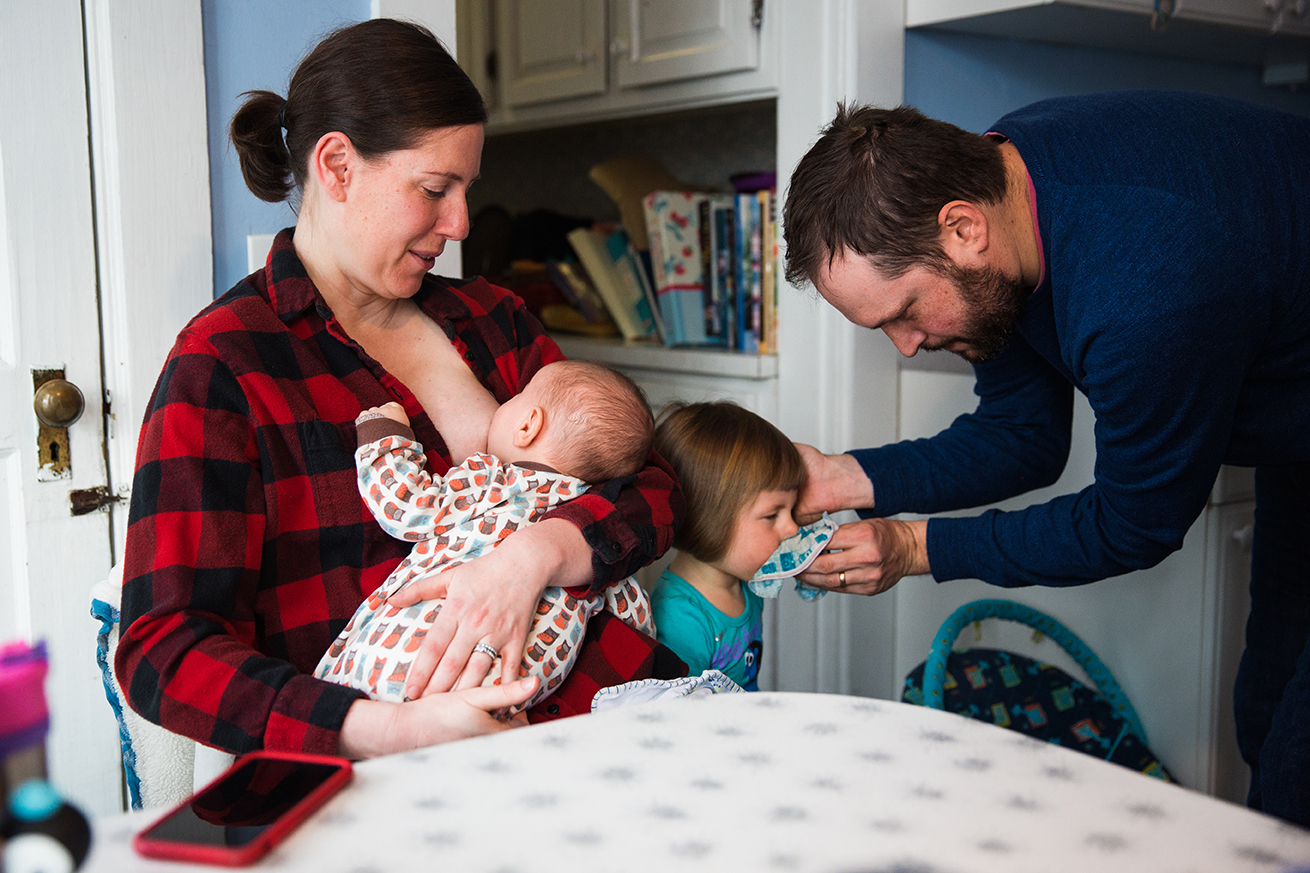 Erin, Nate, Edie & Joshua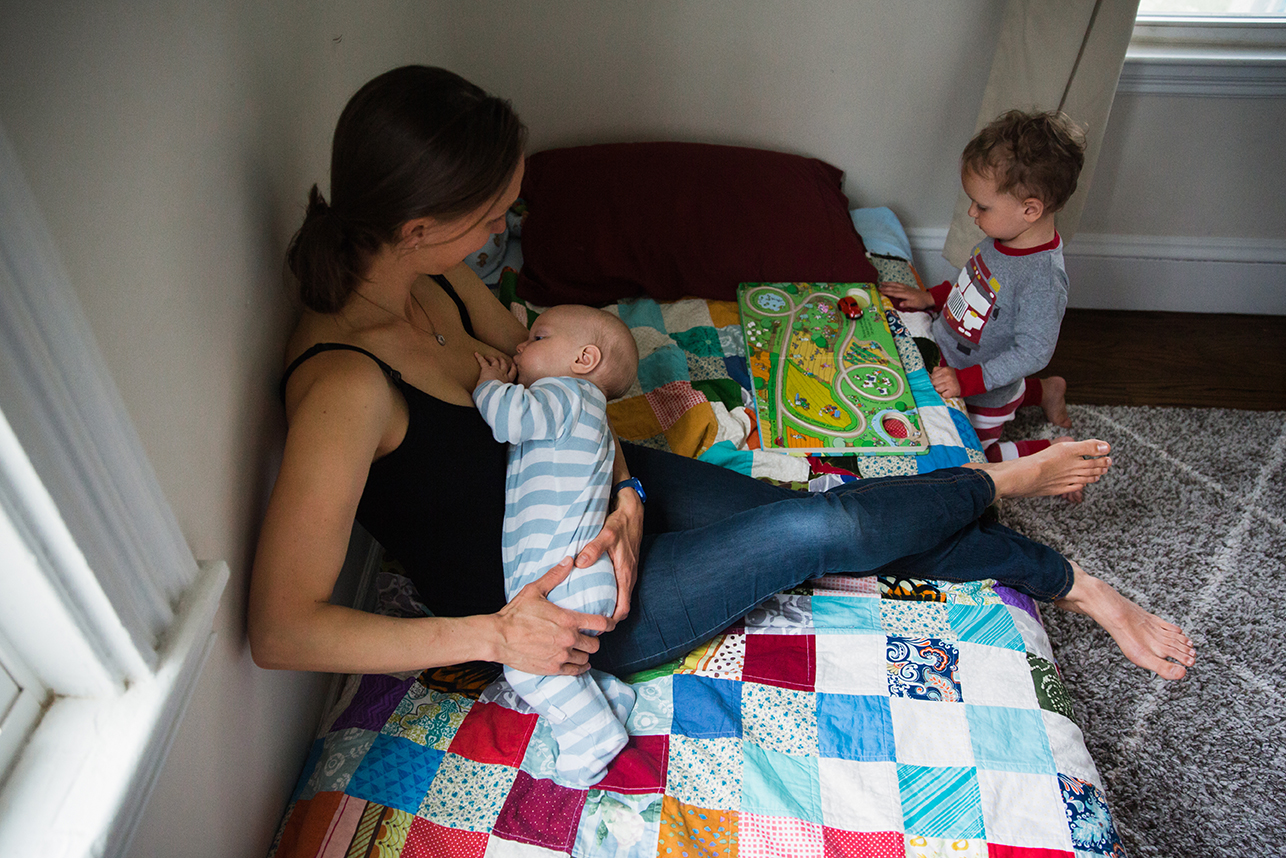 Tess, Wyatt & Cia
Kat, River & Phoebe
"It has been both a gift and hard at times to be physically and emotionally linked to two human beings. I have never had the honor or level of commitment to someone, not even myself. When I was pregnant I was devoted to caring for myself. Ironically once I started breastfeeding, caring for my own body, mind and spirit become quite challenging. And yet, breastfeeding has taught me to sit still. to be with myself and look out the window. It has slowed me down enough to bear witness to my children -completely engrossed in the act of getting what they need. that is a gift."
P & E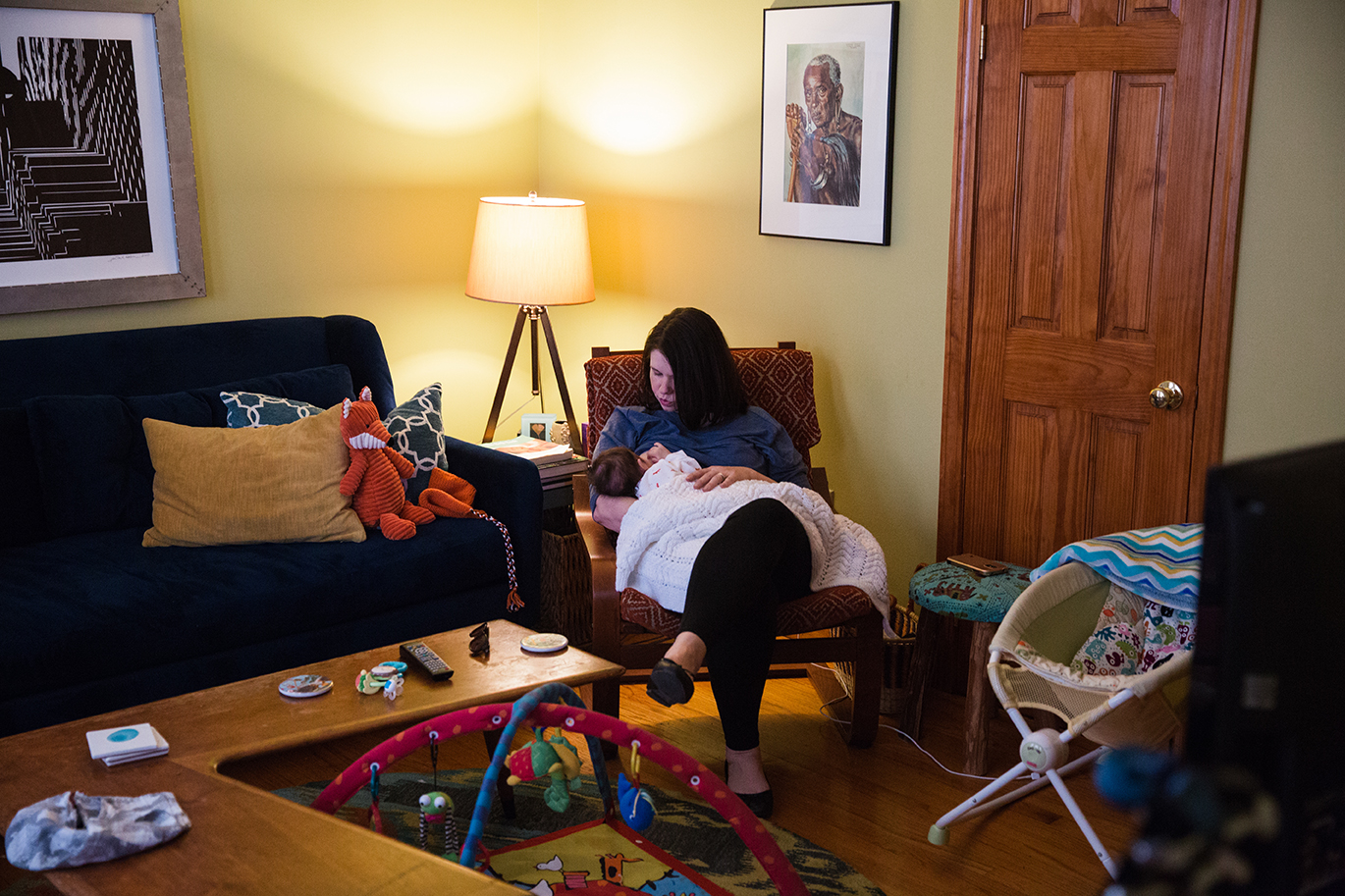 Lynn & Daniel
"Breastfeeding, for me, is so easy and so, so hard. After a year, I still have a very love/hate relationship with it. It was easy in the sense that he could latch, I made enough milk, and he is so warm and baby snuggles are the best - I love being able to nurse half asleep in bed in the middle of the night. But it is so, so hard too and there are times I hate doing it. I sometimes feel trapped by it, in a chair, in an uncomfortable position in the middle of the night, attached to a pump in the lactation room at work which made it hard to be a great employee even if it is my right to take this time to be able to feed my child. I also sometimes felt trapped by breast feeding, in a chair, in a stopped car, on a bench - there were times a bottle seemed so much easier. As I get close to the end of my breastfeeding journey with my little man, I am excited and sad at the same time. Excited for the freedom and a return to the sense that my body is my own and a sadness that I will miss the closeness that breastfeeding has provided me."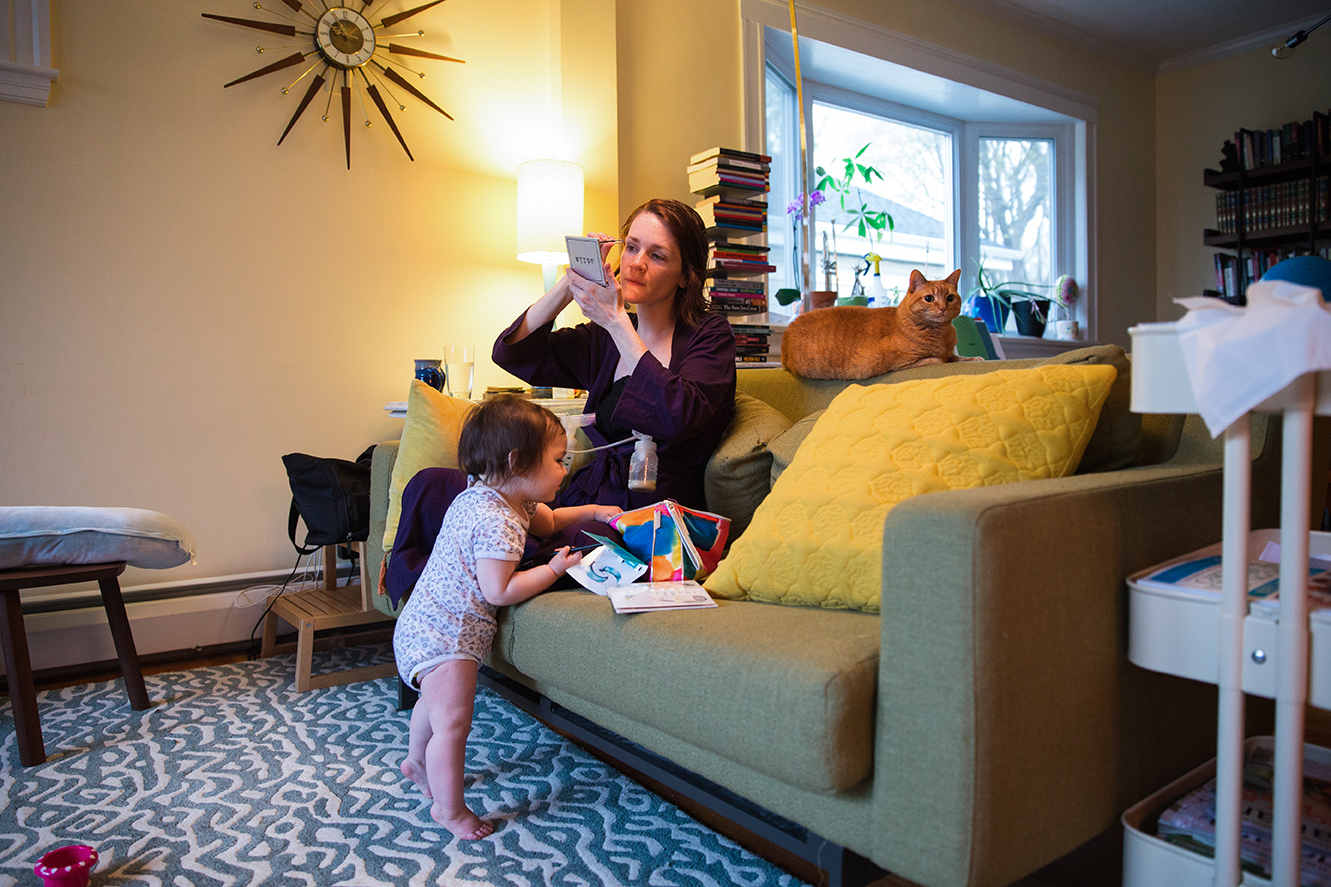 Molly & Isla
"When my son was a baby I would walk over to his day care and nurse him. I still pumped every morning and on other rare occasions, but it was such an irritation to me. Nursing Isla during the workday was never an option. Providing expressed milk for her is a way I can be with her when we are physically apart. I'm able to slow down and think about her when I pump at work. As I prepare to pump in the mornings I tell her "I'm going to take some milk out for you for later!" While I pump she and her big brother play and giggle; I put on make-up. She tries to swipe my brushes and compacts and proudly absconds with them when she succeeds. This morning routine gives me the chance to be still and be with both of my children. This time is priceless to me."
Allison & Thomas
Allie & Finn
"The breastfeeding relationship with my child has evolved markedly since our exhausted, blurry, elated first meeting. I watched, awed, as my wrinkly, just-newly-born infant wiggled his way independently to my breast from where he was placed on my stomach to try nursing. Breastfeeding, and motherhood, have provided me with the rare, unanticipated opportunity to feel like I am a part of something bigger than myself. It has felt simultaneously basic, mammalian and also like a superpower to have such an elegant solution for nourishing and soothing my child. As my nursling now transitions from the exuberant acrobatic antics of a breastfeeding toddler towards weaning, the experience of watching him grow more autonomous feels timely, inspiring but also a slightly bittersweet. "
Jayme & Henry
Mike & Eli
"Your son is now waking up from his quick car nap. He's hungry and letting you and just about everyone know. I reach for the cold bottle of milk, hoping he won't notice. He isn't having it and you're not having his cries of hunger. You frantically scan your environment looking for solutions; CVS, Walgreens, a tailor, uh oh! But there in the distance a shining beacon of light…a coffee shop. You frantically enter with students, moms and retires gabbing away as if they weren't aware that your little one was hungry. You step in line to wait you and your sons turn. He's not happy about the wait, and quite frankly, neither are you. You ask for a hot cup of water and the 17 year old looks at you in puzzlement, like you are joking with him. Baby still crying, you repeat the simple request. "Can I please have a cup half filled with hot water? "That will be ten cents." With my third hand I somehow manage to reach in my back pocket and hand him over my credit card in return for the warm cup of water. I quickly move to a vacant seat, submerge the bottle of cold milk and take a breath."
Nicole, Gavin & Ryan
"Breastfeeding is a controversial subject amongst mothers. Breastfeeding your baby is a choice that you make, however some mothers feel guilty if they don't breastfeed or if it doesn't come as easily as some make it out to be. There is always going to be one person whom makes breastfeeding look like a piece of cake, but in reality breastfeeding isn't easy and you need to work hard at it to make it work for you and your baby. Formula feeding is often the choice among most mothers. Formula feeding is widely accepted compared to breastfeeding, however the benefits to both the baby and the mother are often overlooked.
Formula feeding is widely accepted as a form of feeding your baby over breastfeeding. When you are out at a baby related store, you will find walls and walls of bottles, pacifiers, and formula related items. There are so many choices for a formula feeding mother when it comes to feeding their child."
Delayne & Felix
"I remember taking a good long look downwards in the days before my first was born and wondering how on earth this feeding thing was going to work. I did not anticipate how much I would love feeding my three little ones in the months and years that followed. Now, as I wind down nursing my third and last baby, it is extremely hard to say goodbye to this era, this capability, this coziness. For me breastfeeding has not been so much about what my kids have eaten as it has been about prolonging the intimacy of pregnancy; holding onto the feeling of two bodies being completely in synch, providing calm and comfort at all hours of the day and night; and creating quiet moments of connection in the midst of chaos."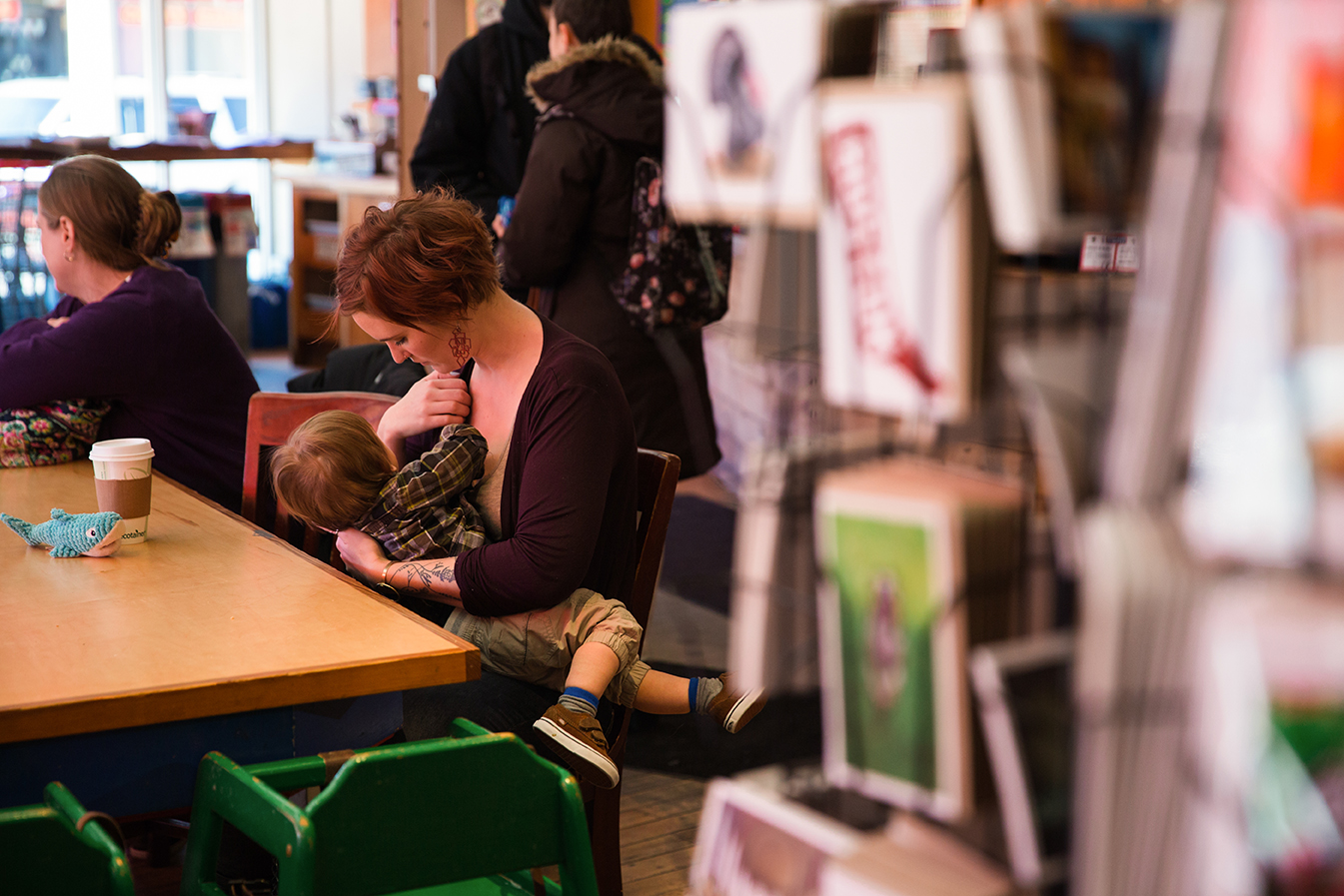 Cai & Silas
Erin, Nate, Harrison & Joshua
Melinda, Mae, Ellen & Raina
"Before I had kids I thought breastfeeding would be easy; I'm a mammal after all!
Now I know that this scene was made possible by an incredibly supportive partner, a good lactation consultant, health insurance that provided a breast pump, and an employer that provides a pumping room and time in my workday to pump.
I'm incredibly grateful that I had the support and resources to nurse. It takes a village - and some good policies – for nursing to be an option. (Thank you, Obamacare!)"
Sailaja, Vyas & Ojovati
K & J
"I shouldn't need to justify why I breastfeed my 2-year-old. It soothes him, it tells him that mommy loves him. It empowers me that I can quench his thirst with my metabolism...also because I can quantify this love and feel its flow and multitask while I'm breastfeeding. I breastfeed, because it's normal to us."